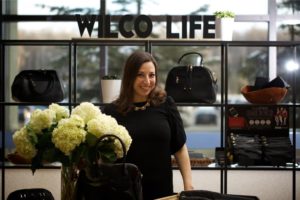 By: Bianca Strzalkowski
Amy Slinker understands the sacrifices attached to military service, but her entrepreneurial spirit didn't think fashion sense had to be one of them.
The longtime serving citizen-soldier launched an entrepreneurial venture in 2014 to give her fellow service members accessories with military regulations in mind. WILCO LIFE's namesake combines the military jargon of "will comply" with inspiration from the unique military lifestyle. Now Slinker is setting her sights on growing her brand to include a larger national customer base.
Her military connection
Slinker, originally from the Midwest, moved to Alaska in 2005 when her husband Dustin received orders there with the Army. Today, Slinker is attached to the Alaska National Guard, but has traveled much of the world in her two-decades-long career.
"I spent most of my Guard career in public affairs and have had the opportunity to travel to South Korea, Romania, Mongolia, and Australia for missions with the Guard. I also responded to Hurricanes Katrina and Rita and the Space Shuttle Columbia disaster," she shared.
Like many military spouses, Slinker faced the daunting task of finding employment when the couple first relocated to Alaska. She started temp work that eventually led her to a present-day job with Pfeffer Development, a multidisciplinary commercial real estate development firm.
"My career before moving to Alaska was in photojournalism. When we PCSed to Alaska, I struggled to find a job. I understand firsthand how difficult it can be as a military spouse to maintain a career while following a military service member's career," she said. "I realized I needed to look for other opportunities outside of photojournalism. I started temping at Anchorage business offices to network and broaden my search for job opportunities where I could apply my marketing and public relations skills. That's how I started at Pfeffer Development—I was a temp for the receptionist and eventually was hired as the Director of Marketing."