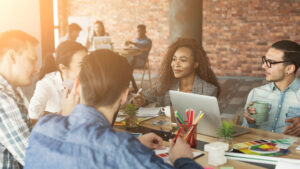 By: Meredith Flory
As your company expands, employee growth won't only be connected to the number of employees you have, but to their expectations for career progression, benefits, and skill-building as well. As a small business or entrepreneur, you don't have to fear employee growth; rather, it shows your dedication to quality work and the development of your team, which aids your customers. If you're in a position to start providing professional development opportunities, here are three suggestions for making it a part of your company culture.
Consider Your Goals for Professional Development 
Just as you have measurable goals for sales and services, developing professional development programs requires considering cost, time, and measurable outcomes. There are multiple types of professional development, some that focus on the individual, some that focus on skills and networking, and others that the team participates in together. As you develop a professional development program, consider the following to get the most out of your plan:
What is your budget, cost, and available time? Do you want to spend money on specific classes or conferences to then offer to employees, or do you want to provide funds for employees to request when they find their own opportunities?
Where do you see a need for improvement? If you have a specific skill in mind that you see a pattern of employees needing assistance with, you can enter professional development programs with a measurable goal in mind. This goal might be related to growth if there is a new technology or skill your company will be implementing, or it might be a professional skill where your employees need more experience or coaching.
Can you attach professional development to company growth? If you foresee growth that will lead to new positions, developing needed management skills in current employees may allow you to promote from within and encourage company loyalty.
Plan for time to offer opportunities for feedback, both named and anonymous, for any programs you will offer.