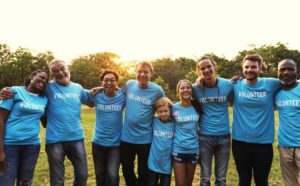 By: Rebecca Alwine
Be the good and do goodness in the world.
Companies, large and small, are finding value in giving back through team philanthropy. And it isn't restricted to any one type of industry. From service professionals to virtual teams, businesses are using their niche as a means to encourage teamwork, improve communities, and just do their part overall.
Jessica Bertsch, founder and president of Powerhouse Planning, feels she was called to give back to others through her business and her team. Prior to launching her small business, her career spanned higher education and government contracting. It was there that she learned to appreciate the immense possibilities attached to a dollar.
"I've worked at multi-million dollar companies and was always in awe of how much money came in to leadership, but how very little was done companywide to make a difference in our world. I committed that if I ever had my own company I would build it on maintaining a healthy work/life balance and on being the good in our world," she said.
And she has kept that promise. Powerhouse is committed to doing its part through "Sharing the Goodness," devoting 10% of earnings each month to those in need. From supporting nonprofit organizations to providing student scholarships, Bertsch invests a portion of her profits in improving future possibilities for others. As her business grows, her philanthropy expands.
Erin Ward, realtor/owner at HRVA Home at Keller Williams Town Center, applies a pay-it-forward philosophy in her local community.
"We ask our team to volunteer at least one day a month with a local nonprofit organization in the community. This must be a day of service, not just providing a monetary donation," she explained.
They also do one annual day of giving in conjunction with Keller Williams' annual event, RED Day. Their most current RED Day project was helping out an organization that provides care packages for deployed service members.
More companies are starting to incorporate giving back as part of their corporate responsibility pledge. Whether it's being proactive about how production of goods impacts the environment or encouraging team members to donate time for service projects, management is finding such activities set a standard of priorities within the company mission.
So, how can a company be radically generous? It starts with planning.
Coming up with a plan
One of the hardest parts about becoming intentionally philanthropic is developing a policy. Once the plan is laid out, implementing it becomes easier. WISE has been volunteering and donating hours/services since the beginning and, after partnering with Pledge 1%, was able to give it an official name. They use this program to submit volunteer hours and record pro-bono hours to share the social impact.
HRVA Homes built their business with their charitable philosophy in mind. Ward explains, "As a recipient of assistance when I was younger from our local food bank and even working in nonprofit for years, I knew immediately it was going to be vital to our company from the start."
Each of the team members can select an organization or project that has meaning to them.
"It's something they are excited to do," Ward said.
Putting it into action
 Laura Early, deputy director and co-founder of WISE Advise + Assist Team, says her team uses its talents to help others.
"In 2017, our team volunteered over 5,000 hours and gave over $30,000 in pro-bono and discounted services," she said.
The virtual assistant agency believes in radical generosity and the power of serving others. "We pledge 1% of our company's time and funds to organizations that align with our core values," she continued.
As with many businesses in today's marketplace, WISE is an entirely virtual team. They combat that challenge easily, even in their volunteering.
"We don't mandate a specific type of volunteering," Early said. "Mainly because volunteering comes naturally to our military spouse, veteran, and veteran spouse team. WISE simply encourages them to commit to giving time to an organization and to recording it."
Military spouses who work for WISE volunteer in a variety of ways, including coaching sports, serving as FRG leaders, and sitting on nonprofit boards.
As far as their pro-bono services, there is an application process for organizations to apply. "We select three organizations a quarter to provide low-cost or zero-cost services to," Early described.
Your business' level of philanthropy, along with the decision to volunteer, is a great way to build brand awareness while setting yourself apart from the competition. Team volunteering is also a great team builder and morale booster. To learn more about establishing charitable-based programs at your company, check out company development services at Powerhouse Planning.