Powerhouse is comprised of freelance team members such as technical writers, graphic designers, web designers, and quality assurance reviewers who, coordinated through a central point of contact, work as part of your team.
Powerhouse knows no borders. We have stretched ourselves across the country to work with the most talented individuals who share similar values about work and family. Team members, such as military spouses or stay-at-home parents, are hardworking individuals who value flexibility, challenge, and the opportunity to help companies build success without being permanent employees.
Powerhouse provides access to a wide range of talent with no overhead cost to you. The talent is 100 % managed by Powerhouse.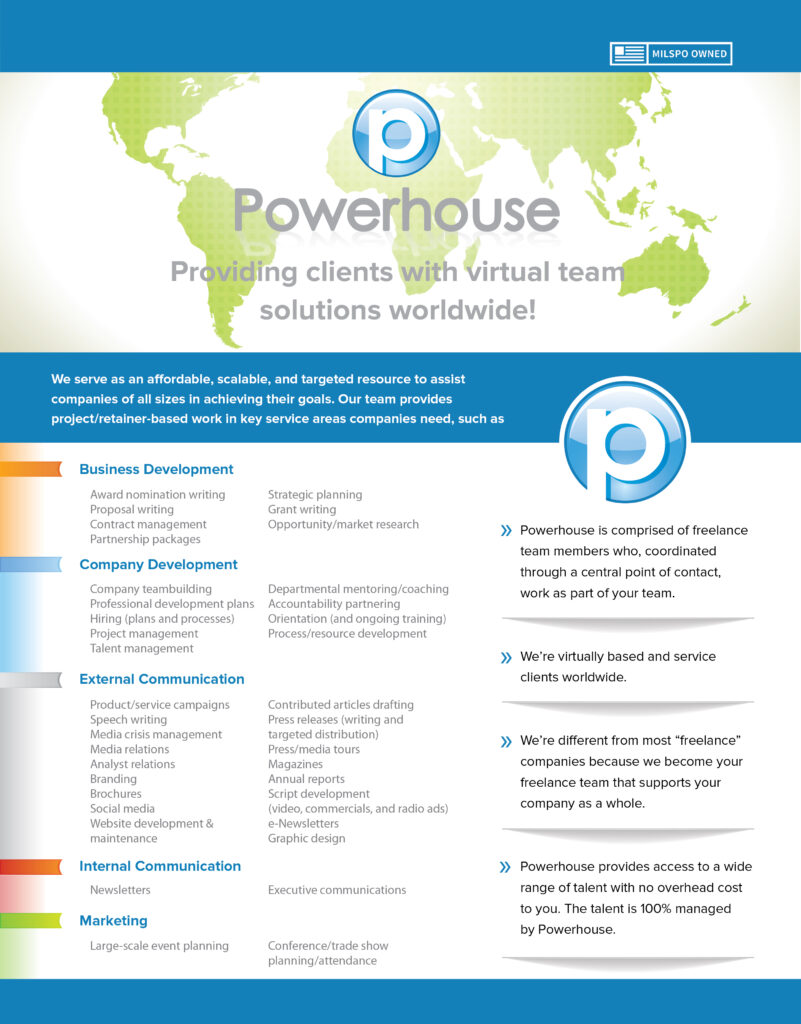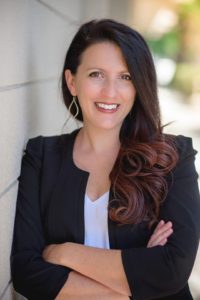 Bio: Jessica Bertsch, M.Ed., President of Powerhouse Planning
Before starting Powerhouse Planning, Jessica served as the chief administrative officer for VSD, LLC (VSD). She was responsible for the development and coordination of the company's marketing efforts, human resources, security, project management, and compliance. During her tenure she helped grow the company from $3M in revenue to $15.5M. She also served as the senior editor of Proven: Beyond the Process, an 8,000-circulation quarterly industry magazine published by VSD's subsidiary, Proven Publications. While overseeing the marketing efforts of VSD, Jessica expanded the company's media coverage through extensive use of print, video, online material, and news stories. Managing multiple communications projects, she also brought in and managed multimedia contracts with numerous partners. Overseeing the administrative support staff for all VSD offices, Jessica developed and provided professional development training and company familiarization training for new hires. An experienced administrator, Jessica has knowledge and expertise with the hiring process that includes developing position requirements, managing the resume search and interview process, and supervising the hiring of new team members. In addition, she has coordinated the logistics and administration involved in opening new branch offices.
Jessica facilitated VSD's acceptance into Telework!VA, Virginia Leaders in Export Trade, Metro Vancouver Commerce Partnership Investment Program (to explore business expansion in the Canadian market), and British Airways' Face-to-Face contest (promoting international business expansion). These endeavors paved the way for VSD to expand its business efforts into the Middle East, which now accounts for a large portion of the company's overall revenue.
Jessica's expertise is in maximizing productivity in the core commercial functions for education, training, and program delivery-type organizations. Before joining VSD, she spent nearly a decade in the administration of education programs, educational institution operations, and learning initiatives. In addition to hands-on experience in the human resources, administration, marketing, and program design functions within academia, Jessica has held senior project management roles in national-scale management development initiatives. Through this focus area, Jessica has worked hand in hand with the leadership of some of the USA's top professional academic institutions, including Purdue University; University of California, Berkley; Cornell University; University of Chicago; Michigan State University; and more than 25 other institutions across North America.
Jessica served as a residential life manager at Purdue University, where she was responsible for the administration and coordination of multiple faculty, staff, and students as well as the oversight of student activities. Additionally, she served as an executive producer for Boiler Television Productions' UR Home 2005 and 2006 and co-produced UR Places 2006. She also organized student volunteer trips to rebuild the Gulf Coast during spring breaks following Hurricane Katrina. Jessica received the RAVE Award, Purdue's highest recognition awarded within the university residences division.
Before Purdue University, Jessica worked at the University of Arkansas, supporting the development and extracurricular activities for more than 1,000 students through the Student Life programs. While serving in Student Life, she was responsible for the organization and execution of leadership seminars, student involvement programs, and orientation weekends. Jessica's prior work experience includes serving as a collegiate chapter consultant for Alpha Omicron Pi Women's Fraternity (AOII) and as a radio broadcast host. She's also held several sales positions.
Jessica earned her Bachelor of Science in radio, television, and film from Indiana State University and her Master of Education in higher education and leadership from the University of Arkansas. In addition, she travels to campuses throughout the United States conducting seminars for up to 500 students on leadership and risk management topics.