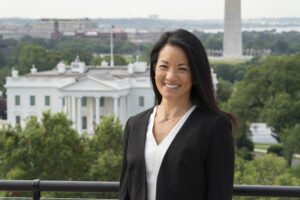 By: Heatherlynn Akins
Mona Dexter believes passionately in helping military members, veterans, and military family members realize their career employment dreams. As a longtime military spouse herself, she's experienced firsthand the challenges and struggles this segment of the workforce faces. Their skills and abilities don't always translate easily to the civilian sector, but they are valuable assets for civilian employers. That's why she joined the U.S. Chamber of Commerce Foundation's Hiring Our Heroes (HOH) program in January 2018 as a special projects manager with the military spouse team. Today, Dexter serves as HOH Chief of Staff and Vice President of Operations and Communications.
Dexter's journey to HOH was roundabout, typical of many military spouses. Her initial career was in higher education student affairs administration, primarily in career services and adult learning and development, and with programs focused on underserved populations. As she moved around, however, she began to find her passion for assisting those in military life with finding their career fits. She transferred her attentions first to the Army Soldier for Life-Transition Assistance Program, a program designed to help those transitioning from active-duty service to life after the Army. As a result, Dexter found her perfect fit with HOH, where she can help the organization provide 360-degree career development training and education through internships and hiring events. HOH's unique mission to "educate civilian employers on the value of military-connected talent in diversifying and thus strengthening their workforces" is critical to Dexter's way of thinking. That's the missing link she couldn't find with her previous position. Having lived the military life but working in the civilian sector, Dexter is singularly qualified to be a part of the bridge that effects understanding between those in the military and civilian worlds.
HOH is also authorized to operate on military installations, allowing its programs and services to be brought directly to its targeted clientele. HOH's holistic approach to establishing hiring events along with internship opportunities and digital communities designed for networking and support purposes has been effective and successful. In 2012, HOH identified a possibly more alarming statistic: the drastically high rate of military spouse unemployment. When Dexter started with HOH in 2018, the unemployment rate for military-connected personnel was down considerably and the focus on military spouses was well underway. (more…)