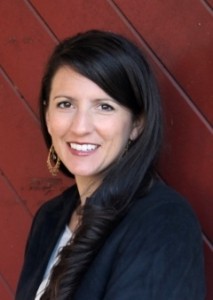 By: Julie H. Kirchner
Jessica Bertsch married her "Coastie" (that's U.S. Coast Guard) husband, Fritz, 14 years ago, and as a family, they have moved six times. Only now, each time Jessica moves with her husband's career, she takes hers with her—a blessing that she worked hard to create for herself just over seven years ago when she started Powerhouse Planning. Jessica's Powerhouse has since grown to become an unwaveringly talented freelance team at the forefront of providing virtual workforce solutions for client businesses.
Jessica and Fritz have three children, including Quint (8), Gracie (4), and Auvie (3). When Fritz is underway with the Coast Guard, Jessica handles the household and the kids, along with keeping her business running successfully. She definitely doesn't want to make this sound like it's all a piece of cake, though—and that if you're not doing it all and still feeling "balanced," then you're doing it wrong. No way. Jessica remains firmly rooted in the reality of the hard work and the personal resolve involved. "My husband has been at sea over a quarter of our marriage, so I've done a lot of parenting, and a lot of building a business, solo," she says.
"I want people to be excited about where they are in their journey and to always be improving." – Jessica Bertsch
Founder and President, Powerhouse Planning, LLC
This month, Powerhouse is focusing on the topic of self-care for freelancers and business owners. So, how does a CEO, military wife, and mother of three take care of herself?
Jessica says, "I feel like I'm the healthiest that I have been since I started Powerhouse, but it is ongoing. I have done everything you read about. I've set office hours—I used to be the lady who took the laptop to the couch when we were watching TV and relaxing. I set more realistic expectations for myself—the other side of this is that I value other peoples' time and space. It's okay to slow down, because of the way our culture is. Because of the way our virtual workforce is."
Jessica also works to practice self-care by staying true to her boundaries, and she starts off every morning by reading a devotional to "get started on the right focus every day." When asked if she uses reminders or time organizers to help her keep the most important things in focus, she laughs, "Yes! All the things. People would be overwhelmed if they saw my life, 'for real.' I am crazy organized, and I have to be, because of how our life is." She also gives credit to her mom, who flies in and helps out when Fritz is at sea.
What other self-care habits help Jessica feel balanced, healthy, and put together? "A girlfriend once told me, 'Jess, you're kind of a "yes" person.' And I am. Because someone told me that and called me out on that, I'm kind of aware that I don't have to volunteer for everything," she says. And now, Jess says, "I take a moment, whenever I do say 'No,' to feel proud of myself, because I'm being balanced on my priorities." (more…)