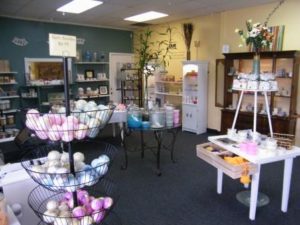 By: Bianca M. Strzalkowski
The hustle of life keeps people on the go from one commitment to the next, leaving little time for self-care. Donna Ferguson is hoping her products will offer some relief, albeit brief, from all those responsibilities.
The Maryland native first started making and selling spa-like products out of her home nine years ago. Ferguson, owner of SALT—Soak Away Life Troubles—sought to give busy customers a way to take a time out from their day. She sells handmade items online and at a brick and mortar location in Jacksonville, NC, where she moved when her husband, a United States Marine, was stationed there in 2007. By 2014, she expanded her virtual business to include a physical location and she has been a one-woman show ever since.
"I was sitting at the dinner table when I thought, I'm doing this. I always had the bug in me, so I literally jumped in," Ferguson said. "I didn't know what I was doing. It didn't dawn on me until after I was in here and all the adrenaline had subsided, I was like, 'Oh, my gosh.' I got to keep books… and I didn't know how to keep a budget as far as projections, so I spent my budget for three years in probably less than six months."
With no formal business training, Ferguson relied on her own research and resources from the local community college. As many owners can relate to, she does everything from the accounting and marketing to the inventory and budgeting. The learning curve has been challenging at times, but she looks forward to walking through those doors she built every single day.