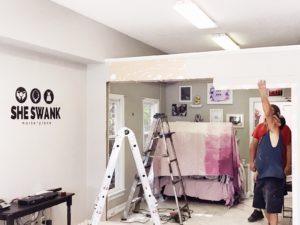 By: Lakesha Cole
It's easy to become attached to the business idea you had when you first started. But what happens when that idea isn't producing the number of zeros you were used to making (i.e., that time I built and ran a six-figure business in another country where I didn't even speak the native language)?
Bottom line, the market is what drives business. As the needs of the customer change, we must be willing to pivot to continue to accommodate the customer.
Keyword…PIVOT.
In November of last year, we celebrated the one-year opening of She Swank Too in Jacksonville, NC. Despite all of the data and market research we conducted, something wasn't clicking. Halfway
through the year, we knew we needed to build something that was more than just a place for people to shop. That said, most military towns are known to be more of the same. A mix of low-budget strip clubs, pawn shops, cheap bars and motels, used-car lots, tacky strip malls, big box stores, and way too many fast food restaurants. We had our work cut out for us.
Business wasn't flowing the way we were used to. Progress was stagnant. We knew we needed to create something more meaningful and valuable: a community. A place where other local entrepreneurs would have the freedom to pursue their business in a professional environment and to perfect their craft. A place where customers felt like home.
We dreamed of creating a business environment of sharing, collaborating, and simply having a lot of fun. So, we built it. We closed our doors for four weeks and renovated the storefront. The new She Swank Marketplace has taken on a life of its own, and that is the real dream. We created the only community-building marketplace that celebrates and supports independent, handmade, locally-owned, military spouse and veteran brands in the area.
Many would view this as a setback or a failure. Here's another perspective. The decision to pivot expanded our business by maximizing the strengths we already possess (community building) to the customer base we've already established.
Don't be so locked into an idea that you prevent your business from growing to its full potential. Pivot doesn't mean failure or desperation. It means you are smart enough to get over yourself and put your ego to the side to take the existing business and solve a new problem.
If you're still not sure if you should transition your business, ask yourself one question: Is your business having difficulty generating sustainable revenue? If the answer is yes, develop a plan as to what you're going to do next. With change comes with some level of risk, so it's important to mitigate that as much as possible. Get your entire team on board to ensure the best outcome.