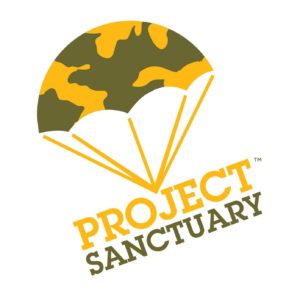 By: Kylie Hastings
A regular sight in today's media includes the standard surprise homecoming video. A military member comes home unexpectedly and surprises loved ones in a fun way, leaving everyone drowning in happy tears. Sounds lovely, right? Unfortunately, reunions are much harder than the television showcases, and when the cameras turn off—and it is time for reintegration—real life can tell a less-than-happy story.
Many families feel confused, frustrated, and alone as they try to readjust to "normal" family life. As the military community marks 16 years since conflicts began in Afghanistan and Iraq, organizations are focusing efforts on helping service members get through the challenges of post-deployment. One such group, Project Sanctuary, a Colorado-based nonprofit corporation, took it a step further to look at the needs of the family as a whole.
Founder Heather Ehle, whose background is in nursing, noticed a lack of support for all members of the military family as it relates to reintegration, so rather than watch from the sidelines, she crafted a solution. She started Project Sanctuary in 2007 with the goal of establishing an evidence-based program that encompasses spiritual, physical, and emotional healing.
By the end of last year, the organization had assisted over 4,000 individuals and hosted 133 retreats using what they call ART: Assess, Reconnect, Thrive. The two-year program starts with a six-day-long therapeutic retreat in Colorado, Utah, California, Texas, New York, Georgia, and Kentucky.
And my own family was one of 1,000 they have served.
It was exactly what we needed after two, one-year-long deployments over the course of three years. On a large ranch in the mountains of Colorado, we found out we weren't alone. In fact, we were far from it. We shared the ranch with several other families as we all learned how to become a family again.
Project Sanctuary provides group bonding activities; family, marital, and PTSD counseling; financial management classes; childcare; and most importantly, time. Time just to go fishing together and watch for moose as we sat around a campfire. Time for spouses to reconnect without the kids around. Time just to be in the silence of nature. Time to say the things that haven't been said—because it hasn't been the right time—and even time to cry.
The organization's founding principle is, "The whole family serves, and the best way to support the troops is by supporting the family." And Project Sanctuary excels at being grounded in this principle because care for the family doesn't end after the retreat. The team continues to check in with families and to provide them with support well after the cabins are left empty. The foundation of what they do is proven successful with reports that 90% of couples who have engaged in their retreats are still together today.
But Project Sanctuary also recognizes there is still more work to be done. In 2018, they plan to implement a growth strategy that includes working closely with other nonprofits, such as Hidden Heroes, American Warrior Initiative, Infinite Hero Foundation, and more. Plus, in May they will hold the third annual O.P.S. Gala in Denver, Colorado.
Military families can learn more about 2018 retreats and resources by visiting https://projectsanctuary.us.