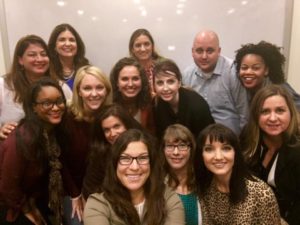 By: Randi Cairns
There is a great deal of debate about the military-civilian divide—the idea that there is a split or disconnect between the U.S. military community and the American public at large. While most folks on the military side of that equation agree that there is a gap between their experience as a military-connected person and the general public's understanding of their service and sacrifice, there's a missing piece of the puzzle.
To suggest that there is an "us" and "them" overlooks the tremendous diversity within the military community itself.  There are differences between branches of service, between active duty and Guard/Reserve components, between officers and enlisted, etc. There is no one voice that can speak for a singular military life experience.
The Military Family Advisory Network (MFAN) is doing something about that. Their mission is to connect military families with the resources they need to thrive and to convene thought leaders within the military family community who, through collaboration with outside organizations and effective communications practices, will elevate their voice as well.
MFAN's advisors' networks are diverse and give the organization a unique, well-rounded understanding of the military family community. Their current board represents spouses from all five services; spouses whose ranks range from E2-O6; spouses of veterans, retirees, and transitioning service members; spouses of both active duty and Guard/Reservists; and spouses who are themselves veterans. They are a geographically diverse board as well, with both coasts (and the states in between) represented.
"As conveners of such a diverse group of leaders and influencers, we are able to truly understand and connect with our community," Shannon Razsadin, MFAN Executive Director, said.
Together, this dream team is looking at the challenges military families face today while exploring opportunities for collaboration and bringing the discussed concerns of the community to service providers. They're also developing innovative programming, tools, and resources designed specifically for this demographic.
The group is currently updating MilCents, their already successful, one-of-a-kind online financial education program that empowers military families to get their money in gear. MilCents allows users to interact with information, online events, social media conversations, and free resources in a self-guided format. Upcoming changes to the program will include the addition of five program tracks so that the content will coincide with the user's need (service academies/ROTC, actively serving, transitioning, veteran, and retiree tracks will all be available).
They're also launching a new social learning program focused on Military Family Wellness (MilYou) in spring of 2017. This program focuses on three key areas: physical health, mental/emotional health, and relationships. Organizations on the steering committee include the National Council for Behavioral Health, Team RWB, and the USO.
The Military Family Advisory Network already knows the secret to bridging divides. They bring everyone to the table. Ears—and minds—open to listen to different experiences and perspectives, and sleeves are rolled up, ready to work. This May applications will open for new advisory members. Stay tuned online for the announcement at Military Family Advisory Network and on Facebook.