Stop! Collaborate and Listen! Put Your Trade Show Nerves to Rest with These Tips!
By: Caryne Craige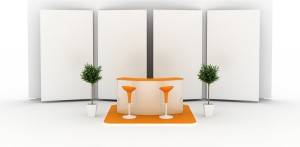 Attending a trade show can be a daunting venture; however, the key is to remain in full control by preparing ahead. With organization, a positive outlook and awareness, you are sure to exude the confidence required to successfully tackle trade show events.
1) Prepare, prepare, prepare
It's helpful to create a list ahead of time of all of the items you'll need on the day of the trade show. By thinking clearly through this list, you will be able to avoid last minute errands and unneeded stress leading up to the event. This list should include things like business cards, business merchandise, signage, and directions to the event. Having a planned agenda for the day of the event allows you to focus more clearly on the main objective at the trade show: to market your brand and make meaningful business connections.
Another great way to prepare is by practicing your "elevator speech." This is typically a 1- to 3-minute concise description of your brand, and what you aim to accomplish with your business. This is meant to grab people's attention and spark interest in your brand while explaining what your business goals are with clear intent. In addition, prepare your answers to some questions that you may expect to receive in the context of a business trade show. By practicing this dialogue, you will feel more comfortable speaking on the topics centered on your business, and conversation will flow more freely and naturally.
2) Day of the trade show – Work what your momma gave you!
This is your opportunity to embrace the experience with vigor, and meet as many contacts as you can. It is beneficial to remain approachable, by smiling and maintaining a relaxed, yet poised posture while standing by your booth. If it seems you are not receiving too much foot traffic at your booth, walk around to get more exposure and meet others at the event. Always keep one eye on your booth for individuals looking over your materials, but stay focused on your mission to network and meet the other talented and smart professionals at the event. Again, embrace it. This few hours of time should be used to your advantage in every way.
Face-to-face contact is powerful both in the short term and long term in garnering recognition for your business. Make sure to use the names of individuals after extending a strong handshake, and maintain eye contact. Looking someone directly in the eyes during a conversation is the key to making any social or professional connection. We rely on eye contact to communicate and connect with one another on both unconscious and conscious levels. It is a way to gain the trust of an individual upon first meeting, and leave a lasting impression. By making others feel at ease, you invite them to continue speaking with you, and to recall that enjoyable conversation later on.
3) Follow up!
The connections you make at a trade show are destined to fizzle unless you follow up with them. Two to three days after the event, it's appropriate to extend an email or phone call to acknowledge your enjoyment of the conversations with that particular individual. This is your opportunity to remind them of your business initiative, and enthusiastically suggest working together in the future. Honest, brief messages are often appreciated so be sure to be concise and upbeat, and always hopeful for what the future may bring.
Good luck with your upcoming trade shows and conferences!