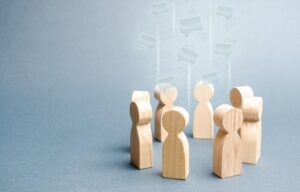 Business Etiquette and Internal Communications
By: Randi Cairns
Unless you're a business of one and wearer of all the hats (we've been there, done that, and gotten the T-shirt), you've got a team of folks you rely on to do the things your business does. The best way to get those things done, and more importantly, to have a team that loves doing them, is to prioritize your company's internal communications.
We've got experts ready to rock that function for your business (and we're happy to tell you all about that), but you can choose right now to improve your internal communications skills or at least start thinking about what that might look like. (Spoiler alert: When it's done right, it looks like increased teamwork, productivity, and employee engagement.)
Here are a few tips on business etiquette when it comes to internal communications:
Value your team's time.
By being mindful about what and how often you communicate with your team, you demonstrate that you care about how they use their time, and you minimize unnecessary distractions. Nobody wants to work to the relentless alerts of incoming emails, texts, and Slack messages. If there's a time-sensitive message that needs to be communicated, of course that needs to go out right away. But for the things that aren't on fire or bleeding, be deliberate about the communications you put out there. Can you send out one email that highlights key information instead of a dozen as they occur to you? Do that instead. 
Bonus points: It's totally okay to use multiple tools to communicate. No one tool is perfect for everything, but you can agree as a team about which platforms are to be used to communicate depending upon urgency and importance (or whatever other criteria you choose).
Communicate your wins.
It can be far too easy as a team member to feel like all you "hear" at work is a never-ending list of things to do and things to fix because they didn't go the way it was hoped they'd go. But internal communications aren't meant to focus solely on negative or even neutral information. Commit to "catching your team doing great things" and share them. Give shout-outs to team members who've gone above and beyond. Celebrate any new business that's come in or contract that's been extended. Find reasons to see and share the good with your team. And make sure they know that any good that comes along is only possible because of them.
Open the door.
Sure, if you're running a business, then the buck stops with you. And yes, that means it's ultimately your responsibility to communicate effectively with your team. But that job is easier for you when you create a company culture that values honest, respectful, and transparent communications among everyone working there. Lead by example with your own words (and how you use them internally). And encourage your team to feel comfortable knowing they too can communicate with you—about their concerns and their big ideas.
You may not get every conversation or communication right every time—few of us do—but if you remember to value your team's time, celebrate the wins, and make communications a two-way conversation, then you're already off to a great start.