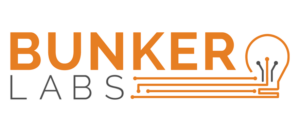 Bunker Labs: Empowering Military-Connected Entrepreneurs
By: Julie Kirchner
Giving back and making our communities better are fundamental elements of our Powerhouse culture. Through our "Share the Goodness" program, Powerhouse gives 10% back each year to causes that are important to our freelance team members and their communities. To inspire even greater impact, we love, love, love to highlight the goodness offered by a nonprofit organization so you can learn more, volunteer, and/or donate.
This month, I was truly excited to have the opportunity to share what Bunker Labs is doing for our military community of entrepreneurs. I first attended a "Bunker Brews" local networking event a year ago, and it was then that I witnessed the true spirit of community among entrepreneurial changemakers. I can still remember the host warmly welcoming us and quelling our nerves about the anticipation of networking: "You're at a 'networking' event—literally EVERYONE here is excited to meet you!" Thus, an evening filled with uplifting conversation and motivational (and sometimes hilarious) stories from successful local entrepreneurs ensued. Everyone left the brewery that night with an expanded LinkedIn network of like-minded friends and a few new great insights to power the workweek.
Bunker Labs is a nonprofit 501(c)(3) organization that seeks to serve veterans and military spouses on their entrepreneurial journey. According to the Bunker Labs website, 25% of transitioning service members want to start a business and desire the support to help them successfully launch one. With a coast-to-coast network of local chapters throughout the United States, Bunker Labs provides the military-connected community the networking support, tools, and resources needed to successfully start their own businesses—and these services are free of charge.
We recently caught up with Kirby Atwell, CFO of Bunker Labs, who was a member of the very first cohort to go through Bunker Labs in 2014 when it had just started. Back then, Bunker Labs was a mastermind group of 30-40 Chicago-area entrepreneurs who met weekly to support each other's work on building their businesses. Atwell shares, "This was a tremendous help for my business, so I knew I wanted to be a part of this mission in the future. I stayed involved and volunteered in different capacities for a few years and then joined the staff as the COO (and eventually the CFO) in 2017."
Considering the impact of an organization like Bunker Labs on local economic development, their work is particularly significant during the historic period we are experiencing now. Atwell explains, "With the COVID-19 pandemic, many small businesses have experienced hardship, and entrepreneurs need more support than ever." Bunker Labs, which has traditionally focused on in-person events, prudently transitioned all their programming to a digital platform, conducted a needs assessment of their community, and immediately began working to serve the specific needs that military veteran entrepreneurs expressed during this time of instability and uncertainty. Atwell affirms, "We are arguably able to provide just as much support, if not more, during this tumultuous time, and it feels good to be able to pivot and help our community continue to thrive."
Continuing to build on their strengths, the organization is working on their Bunker Online platform, leveraging their deep pool of knowledgeable supporters and subject matter experts to deliver on the specific needs of individuals in the community when they need support—a focus that Atwell says "will level-up the support Bunker Labs provides to a whole new threshold."
This kind of effort to continually grow and improve is a perfect tie-in to our Powerhouse focus for July: measuring professional and business growth. We asked Atwell for his take on the right way to approach growth, and he shared some great insights with us:
"I believe there are some aspects of professional and business growth that can be measured and some that can't. My advice is to start with what can be measured. Ask yourself personally why you are doing this, what do you want to get out of it, what do you want your life to look like in 5, 10, 20 years. Get specific on the outcome you want as a result of all the work your business is going to take. Then you can set up your business around what you want your life to look like rather than the way a lot of people do it where their life revolves around their business. The only reason we should create businesses is to serve ourselves and others. Not the other way around."
We also loved these words of wisdom from Atwell: "All the things that are more difficult to measure in terms of growth are the relationships that you make, the skills you acquire, and the maturity you gain as a result of the journey. Those are the things you don't plan but come as a result of the work toward your goal and are arguably just as important."
Bunker Labs provides support for military entrepreneurs in four key ways:
If you'd like to help Bunker Labs support veterans and military spouses in their dream of starting a business, you can do so here. Also, you'll want to follow Powerhouse on Facebook for our latest of the "20 Tips" series we are providing throughout 2020 as well as for more insights from knowledgeable entrepreneurs and business leaders, just like Kirby Atwell of Bunker Labs.