"We make a living by what we get. We make a life by what we give."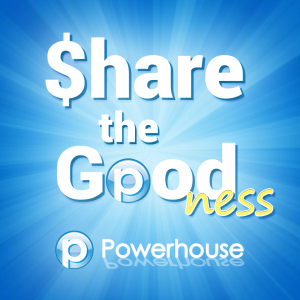 If there was one quote that best summarizes how Powerhouse Planning CEO Jessica Bertsch approaches both her personal and professional life, it would be this one by Winston S. Churchill.
When Jessica founded Powerhouse, she promised herself that she would always "Share the Goodness" by giving back. Not once she was established as a new business. Not when annual revenue reached a certain point. Not just during the holidays or on nationally recognized days of giving like Giving Tuesday. She committed to giving back 10% of all profits in a POWERful way.
In the early years of Powerhouse Planning, that promise was kept by helping people and organizations in need and by giving in special ways in the communities in which she has lived. As a military spouse who has relocated several times, Jessica left an impact in every community she called home.
As Powerhouse grew, so did the reach of the Share the Goodness program. Jessica carefully curated a highly skilled, predominantly military-connected team who shared her commitment to good works and deeds. And the program's reach broadened to support the causes the Powerhouse team was passionate about.
The goal remains to dedicate no less than 10% of annual revenue to making a difference in our communities and around the world. Every year, the percentage of income dedicated to the Share the Goodness program has increased. And with these increases and the company's growth, the impact we've been able to make has grown as well.
Together we are…
Ending childhood hunger.
In Brevard County, The Children's Hunger Project (TCHP) partners with local elementary schools to fight childhood hunger and malnutrition. With more than half of the school children eligible for free or reduced-price meal programs, school lunches are available, but weekend meals are less of a certainty. TCHP helps elementary schools to provide food for the weekend to as many kids as possible each week.
Tackling the causes of poverty and injustice.
Around the world, World Vision is transforming communities, providing emergency relief, and bringing hope to 3.5 million vulnerable children in nearly 100 countries. Children like Ambiya—a seven-year-old who has stolen our hearts (and shares her birth year with Powerhouse Planning). We've been thrilled to be a part of Ambiya's life as a sponsor for over four years and love getting progress reports on how she's growing and thriving.
Bringing hope and love to Uganda.
We learned that Danielle Jackson was planning to combine two passions—photography and a heart for service to take a mission trip to Uganda with Show Mercy International. Empowering professionals and being of service both really speak to the heart of our company, and we were happy to be able to help her meet her fundraising goal to make the trip possible. You can learn more about her adventure here.
We're also helping cure Alzheimer's, providing holiday baskets to families in need, giving scholarships to incoming college students, putting together goodies for communities impacted by disaster, sending some love in care packages to service members overseas, and more.
In addition to our Share the Goodness program,
● We regularly highlight nonprofits doing great work to increase visibility of their efforts. (Make sure you're signed up for our newsletter to read all about them here.)
● We create and share free resources for individuals and small business owners because we want you to live your best personal and professional lives. (Find free career resources, life resources, and military kid resources here!)
● We provide flexible employment opportunities to military-connected professionals (100+ military spouses to date).
At Powerhouse Planning, we make a living providing high-quality services. And we make a life Sharing the Goodness and making a difference.