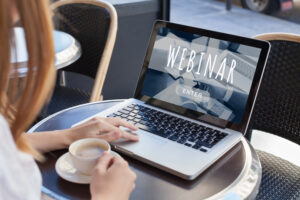 3 Tips to Maximize on Virtual Events in Your Marketing Strategy
By: Julie Kirchner
From convenience to cost, virtual events pack a big bang for both businesses and event participants alike, and "many companies are planning to host even more online events in 2022 than they did in 2021," according to an Inc.com article. You've got a green light to level-up your marketing strategy in 2022 using virtual events to your advantage. So, how can you maximize your return on events?
Webinars are a winning strategy.
Video and events are positioned to be the top two content marketing-related investment areas in 2022, and the investment in these events is expected to grow. According to the Content Marketing Institute's (CMI) "12th Annual Content Marketing Benchmarks, Budgets and Trends: Insights for 2022," among the survey respondents including marketers and professionals, "51% rated webinars, webcasts, and web series first when it came to producing results." Highly successful marketers "prioritize the audience's informational needs, differentiate their content from the competition, and craft content based on specific stages of the buyer's journey," says CMI.
Lead with learning opportunities.
For 72.5% of virtual event participants, learning is the primary goal, according to Vimeo's report on 2022 virtual event statistics. For companies, the majority are using online events for customer relations, education, and retention. For example, 57% use virtual events to educate and engage with customers, and 59% use webinars to promote their product or service and generate leads. More than half of companies also use virtual events for to train, onboard, and engage employees, according to the Vimeo report.
Heap on the helpfulness.
As the third doctrine in Donald Miller's Building a StoryBrand articulates, "Customers aren't looking for another hero; they're looking for a guide." Around half of CMI's survey respondents affirmed that capturing audiences' attention was an increasing challenge over the past year, with numerous businesses sharing that modifying their marketing tone seemed helpful.
"We increased our empathy toward our audience and found them to be more receptive," shared one CMI survey respondent. Another offered, "We stayed in touch with customers with tips for helping their staff. We offered more uplifting and educational marketing, positioned ourselves as a partner, and focused on helping rather than selling." Reframing your marketing message to one of empathy and helpfulness could make a big difference.
Powerhouse believes in your potential and serves as a resource to help you grow.
Whether you're planning a company team-building event or a large-scale conference or trade show, we come alongside you to provide the skill sets you need to help you accomplish your event and business goals. From branded presentation materials, Zoom backgrounds, and distributable resources, to event websites and exhibits, we can help you create everything you need to successfully host your event—and beyond.
Connect with us on LinkedIn for relevant tips to share with your business contacts, and enjoy access to FREE resources on our website, including "In-Office Team Building Ideas," "Virtual Team Building," and "Conference Attendance Checklist."
We offer event facilitation services for businesses of all sizes. To learn more, view our Cape Henry Associates Case Study to see an example of the services we provided to one long-standing client, including
Project Management/Marketing Consultancy
Technical Writing
Graphic Design
New Media Strategy
Website Design/IT Support
Quality Assurance
Video Editing
Exhibit and Trade Show Support