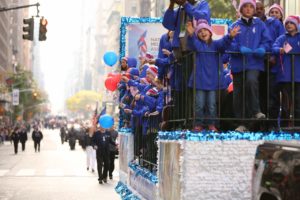 By: Rebecca Alwine
Of the 1.5 million nonprofit organizations within the United States, approximately 45,000 declare service members, veterans, and their families as part of their intended audience, according to the George W. Bush Institute and Syracuse University's Institute for Veterans and Military Families. With those sort of statistics, it is likely the military community often sees the creation or exit of many philanthropic institutions. One, however, has succeeded at being a steadfast player in the military sphere: National Military Family Association (NMFA).
As a group whose existence has exceeded the length of the typical service member's career, NMFA remains one of the most respected military nonprofits in the industry. For the last 46 years, they have connected America to military families by sharing the everyday stories that accompany military life. They have unquestionable credibility, says Executive Director Joyce Raezer, one they have established by speaking from the heart with facts.
"We have an incredible staff and network of volunteers who support us in our efforts and believe in us," Raezer said. "And we have loyal donors, some of whom have sought us out to support our efforts and sustain all the good we do."
Being a long-term military service organization, the Association has seen nonprofits come and go, but has been able to stay secure despite many evolving components in the work they do.
"The big change for us is there are a lot more players serving our community," Raezer said.
[Learn More]
A crowded field means more competition for donor dollars, the ear of military families, and a voice in the press. For several years, they were the only nonprofit serving military families, so this was an adjustment. But their experience has made them a sought-after expert. The newer nonprofits refer to them for guidance on what issues should be fought for along with how to address the needs of military families. Similarly, professionals within the organization often brief elected leadership on what concerns they are hearing from members.
For 2017, the Association's big external goal is making sure the new Congress and Administration hear and respond to the current topics facing today's force.
"Internally, new data sources have been developed, and we are aiming to combine them with military family stories to reach those who are able to help," Raezer explained.
Raezer and the National Military Family Association want to encourage more people to speak up about the challenges they are seeing within the military community, but she advises people to consider what resources are out there first. This advice aligns with other subject matter experts, who have repeatedly suggested that partnering or working with an existing organization may be more beneficial than starting a new one. Moreover, Raezer encourages people to answer these questions before beginning another organization or expanding one into other areas:
Is there someone else doing what you want to do? 
Would it be better to partner with an existing organization than to go through the trouble of starting an organization from scratch?
The Internet has made it easier to locate the organizations already working on behalf of military members and their families. It has also brought about one of the biggest changes Raezer has seen in the nonprofit sector—the implementation of social media.
"Social media has been key in communicating with our constituents," Raezer said. "We have more than 85,000 engaged followers on Facebook and another 21,000 on Twitter."
NMFA uses Twitter to help reach out to the press, Congressional members, celebrities, and other partner organizations.
"We're always experimenting with other platforms, from Instagram to Pinterest and LinkedIn, to be sure and communicate with stakeholders where they are in a way they like to receive messages," she said.
The Association has been able to withstand an evolving nonprofit sector and keep up with trends by constantly adapting the organization to the critical needs and concerns of the people they serve. With a proven track record that spans five decades, NMFA continues to lead in a crowded pack by staying true to the foundational principles that incorporate the voices of members into the work they do. From awarding spouse scholarships, to sending military kids to camp, to testifying on Capitol Hill and hosting social media networking events, NMFA utilizes feedback from the military community to ensure impactful programming that actually makes a tangible difference in members' lives.
For more information on National Military Family Association, visit http://www.militaryfamily.org/.