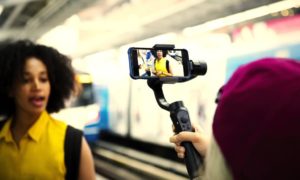 Three Ways to Stay Creative on Social Media
By: Rheanna Bernard
With everyone posting all the time and social media changing almost daily, it's hard to feel like you are keeping up with the Joneses. Staying creative when everyone is doing the same thing can make social media frustrating. When thinking of how to stay on top of things, it's important to take into account your niche, your message, and your individual or company personality. Using those key elements, you can make your own social media unique and CREATIVE.
Publish Instagram Stories. Instagram Stories are the easiest way to show your creativity. Getting out there and showing your face to your followers are the best ways to connect with them. Show who you (and/or your company) really is by talking about your goals, your mission, and your everyday life. Make your Stories eye-catching by utilizing GIFs and stickers. Include hashtags and geotags to draw in a new audience.
Consider using Facebook or Instagram LIVE. Creating videos is a great way to include more creative content on your social media. If you provide a service or sell a product, create a LIVE experience for potential or current customers by showcasing how your product works or a providing a review of your product by an actual user. Another way to get creative with your video is to talk about a subject your clients might also be interested but that might be different than what you are offering. This is a great way to bring in new customers who might not already know about you. One of my favorite examples of this is the company Once a Month Meals. They offer a service of monthly freezer meal recipes and shopping lists to their customers. Several times a month, they put discussions of aspects related to cooking on a budget, cooking for families, and cooking freezer meals on Facebook LIVE. While these videos aren't directly selling their product, they are offering helpful tips and advice to potential customers while also helping their existing clientele.
Ask customers to create content for you. Sometimes it's good to get new creative juices flowing, and what better way to do that than to get your followers involved in the process! Ask to be tagged in their Stories showing them using your product or service. Use the polling feature on Instagram or Facebook to find out what your followers like about you or your product. This feature is such a great way to get new ideas about what consumers might be looking for. Even something as simple as asking demographic questions like, "Do you have kids?" or "Where do you live?" can help you formulate a plan to amp up that social media content!
While it may seem difficult at first to change things up, and you might not even know where to start, thinking outside the box and your comfort zone might just be the way to go. Engaging with your followers and other businesses or companies can help you expand your thinking and stretch your ideas of what you thought were possible. Just because everyone is doing it doesn't mean you can't put your own creative spin on it and make it your own. Happy content creating!