Finding Pride and Representation in Literary Outreach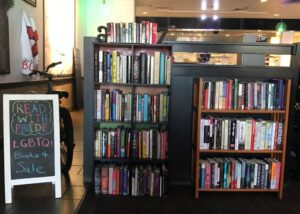 By: Meredith Flory
The stories we tell matter, helping us process the lives we have and dream of the lives we could have. Diverse representation in stories helps us see ourselves more positively and the lives of others with empathy. The Kentucky-based nonprofit organization Read With Pride is working to help stories from the LGBTQIA+ become more visible.
In 2019, graduate students Kadee Whaley and Alyssa Sciortino noticed a need through their work. Whaley has been an educator for a decade and is currently a PhD candidate in English at the University of Kentucky. Sciortino is a pediatric Speech Language Pathologist (SLP). Sciortino explains that she has often been inspired to "push [her]self and [her] colleagues to recognize the need for diversity and representation" to better serve their clients. She observes firsthand how often toys, literature, and educational tools are lacking "not only images of cultural diversity but also diversity in body image, age, religion, disability, sexuality, and gender" and sees children's literature as a way to help adults talk to children about topics they may feel uncomfortable discussing. Working with college students, Whaley shares how in her courses she encourages "students to consider the experiences of others" and feels a responsibility to encourage civic engagement as a means to "achieving equity for all." Forming Read With Pride gave her an opportunity to put this into practice.
Starting in Lexington, Kentucky, Whaley and Sciortino hatched an idea to help put LGBTQIA+ stories into the hands of those who need them the most. The mission of Read With Pride is to raise awareness and readership of LGBTQIA+ authors and stories in Appalachia, and the ladies work to make these books available for purchase at various locations. With an inaugural event at the TriPride in East Tennessee, they began to see their mission take shape. Whaley explains that all of their books are available for under $10, and many are used or donated. She continues that part of their goals include making books financially accessible for their region, as many areas of Appalachia are dealing with "generational poverty and underfunded schools." While the pandemic has caused a halt to many of the events they had planned in 2020, Whaley and Sciortino continue to find ways to serve their community online and in-person.
We were joined by Burley Thomas, an activist, member of The Kentucky Fried Sisters, an order of The Sisters of Perpetual Indulgence, and new partner on the Read With Pride team. He shares that when joining the sisters, he had to declare a personal mission statement, and his is "preserving the stories of Queer Folx," which pairs perfectly with Read With Pride's mission. During the pandemic, Thomas has engaged his audience with online readings and discussions to fit the moment, reading all levels of literature from children's books to poetry and short stories during Pride as well as the works of Black authors within the LGBTQIA+ community to reflect the current nationwide discussion on racial injustice. These readings allow him to "share the available library and the mission of Read With Pride on a large scale."
Combining the efforts of Read With Pride and The Kentucky Fried Sisters, the group organized "The Veil Mail Sale" during which, Thomas explains, people could order selections from the Read With Pride site, and have their purchases no-contact delivered. Proceeds from the sale went to the donation of books to a local youth homeless shelter to empower LGBTQIA+ youth, who, as Thomas points out, make up a disproportionate percentage of homeless teens.
While the group hopes to offer permanent online purchasing in the future, right now they are focused on partnerships with local events and small businesses. The restaurant girls girls girls burritos recently offered dedicated bookcases in their merchandise area, giving Read With Pride a permanent space. Through pop-up sales and readings, Read With Pride helps small businesses offer an added service to their customers and helps bring in new customers. Partnering with Read With Pride allows the businesses to show they are a welcoming, safe, and affirming space to their LGBTQIA+ customers and potential customers.
Starting a nonprofit as two graduate students with limited funds and burgeoning careers was no small feat, but Whaley and Sciortino are committed to the importance of representation, particularly for teens and young adults in the region who may not feel supported. With gratitude, they mention several businesses that have assisted them in providing space or partnering in fundraising efforts. They started with community book donations, working with used bookstores to exchange books that do not fit in with their mission. To others wanting to start a new organization, the pair suggests partnering with other established businesses, activists, and groups and leaning on the guidance of the community you want to serve.
Their hard work has led to the joy of pairing readers with meaningful books. Whaley tells the story of one woman at a sale who shared her experience of growing up in her hometown that had just had their first ever Pride; the woman noted that Read With Pride's booth probably had more LGBTQIA+ books than her entire local library. Thomas explains how moving it was to receive messages and poetry from listeners after his online readings. Sciortino shares a moving experience from a pop-up sale where a family waited at a distance for their teen to shop. Afterward, the father purchased the books and thanked them. Sciortino says, "To be a place where a child and their parent can come together to feel safe and represented and maybe learn a little about one another is an inspiring moment."
On social media, Read With Pride shares book recommendations and highlights authors. Their website, readingwithpride.com, has lists of their current selections, a "Hall of Heroes" highlighting authors who have donated their books to the organization, and event and donation information. They are on Twitter and Instagram as @read_pride and Facebook at @readingwithpride. Thomas notes in closing, "Books, and service organizations that focused on empowerment and normalizing my experience, saved my life. I want to be a part of that for someone else."