Operation: Job Ready Veterans—Helping Veterans Navigate the Civilian World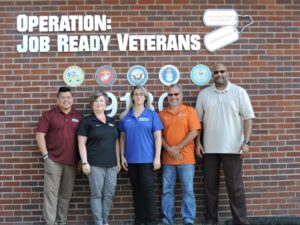 By: Heatherlynn Akins
Back in 2007 in southwest Indiana, a dream was born. Specifically, a dream to help disabled veterans find employment at the Naval Surface Warfare Center Crane Division. It didn't take long before that dream expanded to focus on helping all veterans and their families transition from a life of military service to one of civilian success. In 2013, Operation: Job Ready Veterans (OJRV) opened its doors at its headquarters in Indianapolis, Indiana, where the nonprofit currently assists veterans with navigating the sometimes overwhelming transition to civilian life.
Recently, Adena Vaughn, OJRV's director of human resources, took a little bit of time out of her busy schedule to speak with us about the incredible dream that has become OJRV's core mission as well as some exciting news about expansion. OJRV's heart and soul is ensuring that those who have "dedicated their lives to our safety have that dedication reciprocated—even if not on the same scale," according to Vaughn. To that end, OJRV offers services and workshops designed to help veterans and their families navigate the critical time between transitioning out of the military and into civilian life. "We're broaching a topic that is still mostly taboo in our society," says Vaughn, "but it's one that needs to be addressed in order to help our veterans succeed."
With programs such as Ticket to Work, which focuses on returning disabled veterans to the workforce, and the VETS program, a weeklong seminar designed to cover everything a veteran needs to know to find meaningful employment beyond the military, OJRV is picking up where the military leaves off. Often the transition period is left to the veterans to navigate on their own. These service members who have given several years, if not a career's worth of years, to serving their country are left to figure out for themselves how to return to civilian life. "OJRV steps in at a time when most turn away or redirect them," Vaughn states.
Such programs require a vast amount of planning. In fact, Vaughn says that planning is crucial to offering the most effective programs. "Planning will expand an organization and lack of it will break it," she continues. Research is key, both to the initial set up of a nonprofit on the scale of OJRV and to its continued success. "Research is the only way to get a thorough yet realistic understanding of what would be important for growth, sustainability, and longevity," according to Vaughn. No nonprofit can rest on its laurels if it is going to continue to serve well.
Of course, when you're in the business of helping others, money is also a factor. One that needs a lot of time and planning to manage effectively. "We're always looking to connect with potential revenue streams," Vaughn says. "We pride ourselves on devoting most of our funds to improving our services in order to create easier transitions for our veterans and their families." In support of these efforts, any amount of money donated is helpful and appreciated. OJRV will be participating again this year in Giving Tuesday, an international day of giving held annually the Tuesday after Thanksgiving. This year that date falls on December 3rd. "Giving Tuesday is a way for all of us to give in a small, or big, way to the causes that we love," Vaughn says. "We hope that everyone will give a little to help those who have kept us safe. However, we welcome all types of giving at OJRV. For those in the Indianapolis area, we are always looking for volunteers to donate their time to our seminars. Additionally, some have donated professional clothing to our clothing closet for our VETS program participants to use for interview clothes. We're also looking for employer partnerships that allow our participants job opportunities. Really, if you're moved to give, we have a way to make that happen."
OJRV has successfully stepped in and filled a need. Veterans and their families have a partner to help in their transition period. Currently, OJRV operates in the Indiana and Illinois areas, but there are plans to expand into the Ohio/Michigan area and Kentucky within the next five years and then into the entire Midwest shortly after that. Ultimately, OJRV would like to be wherever veterans are transitioning. As Vaughn says, "The opportunity to touch individuals' lives each day is a tremendous blessing. We get to see firsthand what a little time and effort of reaching out on our part does for the greater good."
To learn more about OJRV, their mission, and ways you can help, please visit their website.