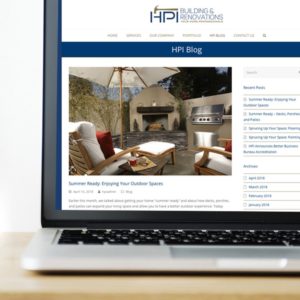 By: Lakesha Cole
It's no secret good branding is necessary to succeed in business. With visual social media platforms, such as Instagram, growing in popularity by the minute, the shift over to visually stimulating content with catchy copy is no longer something that sets you apart. Rather, it is now a necessity to grow your business and to reach your target market. If you've recently opened a business and are searching for a way to market it, consider creating a blog to build brand awareness and amplify a strong brand voice.
Branding isn't just the visuals. Branding is everything you do—and that you don't do—in your business. Your brand is more than just your trademark and logo and fonts and colors. It's how customers associate and connect with your business, or not. It's not what you sell but more so how you sell it.
With that said, let's discuss the ingredients for a great blog and how to build one that increases a brand's following:
Tell Your Story.
Every brand has a story. Write content that tells yours concisely and with passion so that your audience can feel it. Creating your story involves bringing everything that is important in your brand together.
Here are some elements to keep in mind when telling your story:
–    Your purpose
–    Your vision
–    Your values
–    Price point & quality
–    The customer experience
–    Your products
–    Your content and copy
A strong brand identity makes customers feel as if they know you or the personalities behind the business, which leads to customer loyalty and more followers. It will keep customers coming back, too, because they are convinced that you are likely to have the things they want to buy, even if they don't need it.
Create Your Voice.
Use your brand voice in all your blog content, printed marketing materials, website copy, and social media posts. Your voice should speak to your target market, but also be authentic. Words that speak to the demographic of 45- to 60-year-old men will be very different than those that reach the 25- to 35-year-old female demographic.
Not quite sure how to figure it all out? Keep an eye out for how these groups are speaking to one another. What jargon do they use? What tone? Be mindful of this when creating your own brand voice. Yes, you want to speak to your target audience, but you also don't want to seem fake. Be sure to spice up your blog content by using a dose of you.
Brand Everything You Touch.
If you're creating a post for Easter, don't just go with whatever themed items you can find at the Dollar Store. Look for graphics, props, and other visuals that match your brand's aesthetics. If your brand is fun and funky, use a quirkier photo with your blog post, such as a giant, hot pink stuffed bunny. If your brand is more modern and minimalistic, perhaps a rustic basket with ceramic eggs would be a better fit.
When you're out running errands, live your brand. Spontaneous moments make for great blog content to share with your followers. Instead of rushing out of your house last minute, start getting ready early and pay attention to the details. Represent your authentic branding with the way you dress, the way you talk, the way you…everything.
Be Strategic.
Inbound marketing is a fancy term that describes a method that uses a variety of online content to attract new visitors to your website and employs features—like strategically placed calls to action and well-designed landing pages—to convert visitors into leads and buying customers.
When you promote your blog through your social media profiles, for example, you can tap into your existing group of followers and make it easy for them to share interesting content with their networks. This exposure will allow you to get your message in front of more viewers who are most likely to be interested in your message.
Be Consistent.
None of the above matters if you aren't consistent with your message. Without consistency, you not only call into question whether or not you are committed to your brand and customers, but also whether or not you are even open for business. Imagine visiting the social media page of a local restaurant in your town only to discover it hadn't been updated for two years and that the business doesn't respond to any comments or inquiries. Would this reflect well on the restaurant? Of course not. And the same goes for your business. Consistency is and has always been key.