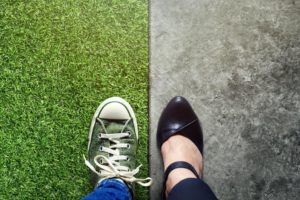 By: Rheanna Bernard
The phrase "work/life balance" is one that has been a topic of discussion for a long time. How do we have it all? How do we succeed at our work and keep our home life together and successful as well? With more and more people having the option to work from home, or to telework on a regular basis, the work/life balance has started to blend together. How can we successfully navigate our careers and our home lives? Here are three tips to put you on the right track. (Many thanks to the military spouses and working moms who contributed to this conversation.)
Organize Your Work at Home
Meghan Wieten-Scott, senior outreach advisor at Blue Star Families, shares that organizing your work life at home is key. "It helped so much when I turned our guest room into an office. It gave me a door I could close." And gave her a place to "leave" work at the end of the day. Setting boundaries is a sentiment shared by those who work from home and is key to organization. Social Media and Content Manager Jennifer Morrison shares that "I have an app that turns off notifications for work emails after 4 p.m. on the weekdays and completely off for the weekends." Overall, if you're working at home, organizing how you do that and sticking to that plan are key for success.
Organize Your Home Life
Jennifer Porter, a lawyer in Northern Virginia, shared that Google Calendar has been an essential part of the success of her work/home balance. It's how she and her family manage multiple calendars and share them with each other. Meal planning and meal prep are additional ways to stay organized and ahead of the game at home. Paying for a meal planning service or just spending the extra time compiling easy recipes to put in the Crock-Pot or throw in the freezer ultimately saves time.
Set Expectations
Having a healthy understanding of what your expectations can really be is important. You have to be realistic about what you can and cannot do. This may require some trial and error and could be different from one month to the next. But it's important to set realistic plans and remember that you can't do everything you want to do all the time and still have balance. For example, Heather Oster, Northern Virginia educator turned stay-at-home mom, and her family set time aside to make an actionable plan for the coming weeks. Decide what is a priority, whether that be sitting down for dinner or going on a monthly date night, and get it on the calendar. "Yours will look different, but start with the tangible, important and realistic actions that you and your family value," says Oster.
Regardless of whether you work in an office outside of the home, at your kitchen table, or some combination of the two, you can take actionable steps to continue to work toward navigating the home/work balance. Start a conversation with those around you and surround yourself with those who can support you and whom you can support as well. Because your community is a key part of success in life!