Nicole Lauer is ecstatic to join Powerhouse Planning as a freelance social media manager. Over the course of the last decade, Nicole has gone from an active-duty military member to a full-time military spouse.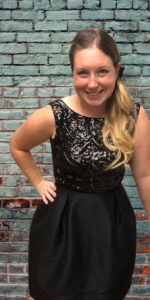 Navigating five moves in ten years, Nicole has learned to overcome all obstacles thrown her way.
In her professional life, Nicole strives to be an adaptable team member up for any challenge. She has over five years' experience as a social media manager, communications manager, content curator, marketer, and marketing assistant.
Nicole is a graduate of the Academy of Art University in San Francisco where she earned her B.A. and M.A. in multimedia communications with a focus in social media advertisement. During her course of study, Nicole remained engaged with her military community by volunteering as an ombudsman and holding several board positions on spouses' clubs and ball planning committees.
Nicole currently resides in Cape Canaveral, Florida with her husband, Clark; eight-year-old son, CJ; and four-year-old daughter, Zoe-Rae. In her free time, Nicole loves exploring every inch of Disney World and tasting new food offerings around the world in Epcot.