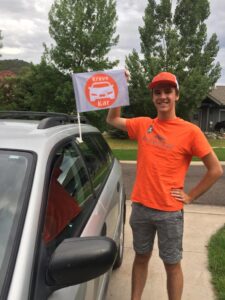 Bringing a Big-City Amenity to a Small Town
By: Heatherlynn Akins
When Tim and Courtney Madden met, they were young students at Penn State who dated but then went their separate ways. Little did they know their story was only just beginning and would, eventually, lead to Courtney starting her own business with Tim acting in many advisory and support roles for that business. In the eight years between Penn State and reconnecting in 1998, Tim joined the Navy and served as a diving officer on the USS Salvor in Pearl Harbor, Hawaii before starting an IT career first in Denver and then for Colorado Mountain College in the small, mountain town of Glenwood Springs. Courtney spent nine months in Madrid after graduation before returning to the States via Dallas, TX where she settled into a career as a fifth-grade bilingual teacher as well as a middle school Spanish teacher. When they married in 1999, the couple decided to make Glenwood Springs their home, where they could be near the world-class skiing resorts of Vail and Aspen. Four children later and the Maddens have become well-known fixtures in their community.
In early 2019, Courtney decided she was ready for a career change and started looking into various opportunities. A family friend, entrepreneur Johnathan Gorst, was looking to start a new restaurant delivery venture and the two began talking about the possibilities of teaming up. Before they could start operations, however, life happened, and Johnathan and his family moved to New York. Courtney was left with a concept and a desire to open KraveKar, a restaurant delivery company that contracts with locally owned restaurants to deliver meals to both hometown residents and the many tourists who flock to the town annually. It was a service not previously available to the town, but one many out-of-town visitors from the big cities expected and many residents longed for.
The idea is simple: A customer uses the KraveKar app or website to select a restaurant and places an order. Then Courtney and her team of dedicated drivers pick up the food and deliver it wherever the customer chooses, whether that's home, a hotel, a park, or the world's largest hot springs pool, which just so happens to be a major tourist attraction in town. While it works similarly to many of the national companies who offer this service, KraveKar comes with that small-business attention to detail. If part of your order is missing when it's delivered, Courtney and her team will go back, pick up the missing items, and deliver them as part of their service. They're also actively involved in the entire process, from cultivating relationships with local restaurants to driving the car that delivers your food. Courtney doesn't believe in a hands-off leadership approach.
That attention to detail and hands-on style have grown KraveKar from a small business that made its first delivery on July 5th, 2019 to a company that averages 45-50 orders per day and had close to 1,600 deliveries in July 2020 alone. While KraveKar enjoyed slow but steady growth in its first six months, the COVID-19 impact that negatively affected so many actually served to help this small business. While the initial shutdown that swept the country forced the temporary closure of the restaurants KraveKar works with, once restaurants were allowed to open for takeout, KraveKar was there to help. Courtney is quick to state that KraveKar "never provided enough business for any one of the restaurants to remain open on our orders alone, but it was an option for those people who were not comfortable going out in town to pick up their own takeout."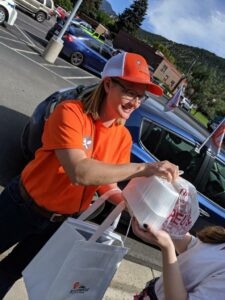 Being a small business operating during a global pandemic is challenging, but the Maddens were lucky enough to be able to provide jobs for over 15 people who were either laid off because of COVID-19 or were home from college for the same reason. They now have over 2,000 local customers whom they service regularly and 13 partners. Staffing remains their number-one concern. "We are continually expanding and always need people to join our team of drivers," the Maddens point out, especially as they talk about expanding into neighboring communities. "We have been approached by several restaurants outside our delivery area, so we know there is some interest," Courtney says. "But we're concerned about staffing and how to handle the expansion from a technical standpoint." This cautious approach to expansion is because Courtney and her team pride themselves on their exceptional customer support. "We're being careful," she states, "to ensure that we don't grow too fast so that we can do our best to provide a high level of customer service."
"We've gotten to know some of the nicest people in Glenwood who are feeding our community through their hard work in our local restaurants," the Maddens say. They're committed to extending that work through KraveKar. Tim and Courtney say, "KraveKar really helps to connect customers and businesses in Glenwood. We feel like an integral part of what happens in the downtown core and want to help that area continue to thrive and attract business," something small, rural towns constantly combat. Glenwood Springs is lucky because it's nestled so conveniently between the world-famous ski resorts and is a natural home for the many who want to call this area home, but it's not immune, especially in times like we're currently experiencing. KraveKar has allowed the small-business-model restaurants that Glenwood is famous for survive during exceptionally trying times.
It hasn't been easy, though. The Maddens are quick to offer words of advice to those who are contemplating beginning their own business. "Understand all your costs," they say. For instance, they point out that they did not anticipate the unexpected costs of accepting credit cards, particularly as pertains to fraudulent charges. They also stress knowing your business partners. "Our early partners didn't work out, and we had to restructure the business several times in the first few months."
Even with a great community that supports small businesses, it isn't a cake walk. They add that finding advisors and mentors who are willing to support you in whatever way you need is crucial. And you should always plan on the unexpected happening. "Sometimes there is a pandemic or a forest fire heading your way. It is how you handle these challenges that will determine if you are successful." For the Maddens, it boils down to one thing: "How we make it right for our customers and our partners is what makes us successful." Which means that Courtney and Tim are out there every day, making deliveries and working directly with the restaurants and customers. It's something that can't necessarily be said for their national competitors, but it is the backbone of KraveKar and something that won't change even as they turn an eye toward expansion.