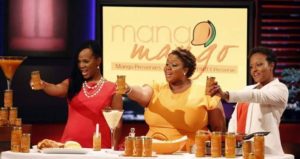 By: Bianca Strzalkowski
Spread it! Mix it! Shake it! Stir it!
Lakesha Brown-Renfro delivers a party with every order. Whether it is one of her products or services, the Navy wife of 18 years gives customers an experience that has helped her grow and build a diverse business empire. She and two partners launched their first company—Simply Panache, an event planning firm—in 2011.
She said she had the entrepreneurial spirit since she was a young child, first starting with a lemonade stand, followed by a hair bow business, and then she created a teen membership club. Brown-Renfro and her friends eventually coordinated parties that caught the attention of friends, family, and even strangers.
"At this point, I started thinking that I could do this as a business, and the event planning company was born," she said.
Front and center of Simply Panache was a product that would ultimately become the signature item and foundation of the brand. Mango Mango is a gourmet mango preserve with over 100 uses. It earned the reputation of a "party in the jar" with Brown-Renfro's robust marketing plan. She started by selling the product online, at farmers' markets, and in local and national stores. As the business grew, so did the opportunities.
Three years ago, her team appeared on ABC's hit show Shark Tank. Valuable learning lessons came from the experience.
"Shark Tank is a machine, and you have to be very patient and prepare well to handle all of the elements that come with being on a popular show on national TV," Brown-Renfro said. "We practiced our entire routine hundreds of times, and we anticipated every possible outcome. When we were hit with 15,000 orders in 48 hours after we aired, we had to communicate with our customers over and over again regarding the delays in shipping due to volume."
Even though they didn't get an offer from the sharks, the business hasn't been the same since.
"We were flooded with thousands and thousands of orders," she said. "We had to re-vamp over and over again our fulfillment plans to manage the surge. We honed our skills as social media experts/managers because social media became our main outlet to communicate with our customers. We became local 'celebrities' in our community; people recognized us in the streets and in airports. We were bombarded with requests to appear, to speak, to motivate, and to tell our story."
Since then, Brown-Renfro has expanded her business portfolio to include a brick-and-mortar location called Simply Panache Nail Bar & Pedi Spa. The spa, located in Hampton, Virginia, features the mango theme throughout its offerings.
"Our branding plan is very important to us; therefore, it is important that certain themes run through all of our businesses," she said. "Our branding plan is based on connectivity and engagement with me and my business partners. We are affectionately known as the 'Mango Ladies' and our first business is 'Simply Panache' (our event planning company). Therefore, we include the Simply Panache theme and some connectivity to mangoes (usually via the color orange) in all of our business ventures."
The Mango Ladies have no plans of slowing down. Brown-Renfro says her future plans include expansion of her nail bar to include expanded massage therapy services, body wraps, cool sculpting, hair services, esthetician services, and more. She also plans to open a new boutique hotel called "Simply Panache Place."
She sees entrepreneurship as a great fit for other military spouses.
"Military spouses have to be very adaptable, flexible, and able to recreate their lives over and over again. They also are multitasking geniuses. Entrepreneurship is all about being dedicated, flexible, focused, and committed to seeing your vision realized regardless of the obstacles along the way. True definition of a military spouse," she added.
Share the Knowledge: Lakesha's Three Entrepreneur Tips 
Pick something that you have a passion for and that people need or want.
Remember that entrepreneurship is not a race to the finish line; the journey is really the important part.
You learn just as much from obstacles and false starts as you learn from successes.
Pray. A lot. And then pray some more.
To purchase the gourmet Mango preserves, visit Lakesha Brown-Renfro's website at Mango.