3 Freelancer Survival Tips
By: Julie Kirchner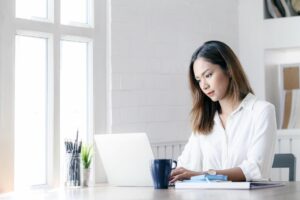 Monitor your time. Knowing how much time you spend on typical client deliverables is key to marketing your business successfully, managing your time, and giving you the confidence to say yes (or no) to additional projects at a given time.
Even for projects that bill by completed deliverable (versus hours), you'll want to track the amount of time it takes you from start to finish, for your own knowledge. Are you charging the right rate, given the time it takes? Do you need to schedule some time to learn a new digital tool that can help you scale projects faster and cut down on wasted time?
To start tracking your time on work projects, try using a time tracker tool such as Toggl, a free app that allows you to track your work hours for different projects and clients conveniently from your phone. You can add depth to the information you track (such as clients and project titles) and even run simple, visually appealing reports online at the end of the month that really showcase how you're dividing your time. Over time, you'll develop a keener sense of the time involved in each type of deliverable. This can also help you set more accurate rates when you're asked for quotes in the future.
Track your tasks. If sticky notes and to-do lists are taking over your physical desk space, take your task list digital. Use Gmail's Tasks feature to keep track of each new assignment as it comes in. It's really fast and easy to enter new tasks in, and you can add dates and subtasks, too, giving you a better visual rundown of your upcoming workload.
Without ever leaving your email inbox, you can view upcoming due dates on projects or make a quick note to research the idea that popped into your head while reading that last email. An added benefit of this tool, from the bottom of your task list you can view all of your "Completed" tasks—handy if you need to pull together a list of recent monthly or quarterly deliverables quickly to share with a client.
Grow your proficiency. Invest in a project that will make your work easier every day. As you go through your week, take note of any task that you feel takes longer than it should – it could be because you're unfamiliar with the software, or you are doing something manually that you could automate (if you just took the time to get set up). Here are a few ideas:
Take a course on using Google Drive to back up your files (and learn how to access them from your phone).
Create and save templates that save you time—such as recurrently used email verbiage or mailing labels for frequent contacts. It may only take you a couple of minutes to create a template, but it could save you many more minutes over time.
Listen to a weekly podcast that could help you grow professionally. Bonus points for combining this new habit with another healthy habit you are trying to create, such as fitting in a few minutes to listen while walking your dog for 20 minutes a day. Search for subjects like productivity habits, digital marketing, unleashing creativity, or networking to grow your business. Identify one learning focus that will benefit you currently (and excite you) and then find a podcast you enjoy so you can start gleaning helpful tips, a few minutes at a time. (Here are a few podcasts our freelancers have suggested for you to check out: Happier with Gretchen Rubin, The Accidental Creative hosted by Todd Henry, The Creative Exponent by Marian Parsons and Shaunna West.)
Powerhouse Planning is sharing 20 tips every month in 2020 on topics that are important to freelancers and business owners for personal, professional, and business growth. You can access these tips (and a community of entrepreneurial support) through our Facebook page as well as on the "Resources" page of our website.