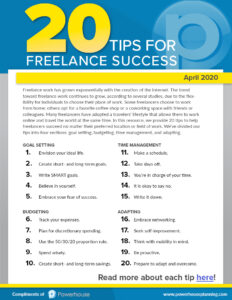 The challenges and opportunities afforded by freelance work are monumental and potentially life changing. However, a little planning, dedication, and willingness to make adjustments can mean the difference between being a successful freelancer and one who will continue to struggle.
For the newbie: Upwork.com offers tips on how to survive your first year as a freelancer—everything from ways to shift your mindset to tips on how to organize your days.
For the freelancer with a full-time job: Sometimes, especially when making the transition, that full-time job is a must-have. For tips on how to survive as a freelancer while juggling that day-to-day grind, find tips here.
For an overall freelance survival 101: Check out Creative Bloq's whole host of tips for freelancers. With plenty of links to additional sources, it's kind of like a one-stop shop.
For a creative, easy-to-read-in-one-sitting resource: Find Powerhouse's "20 Tips for Freelance Survival" on our resources page.