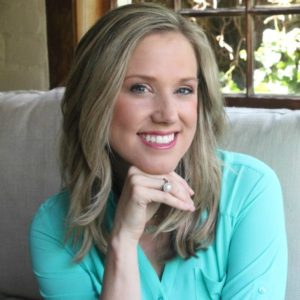 By: Rebecca Alwine
"Facebook is the one piece of technology I use every day," Kayla Roof said.
Roof, a business advisor and creator of The Work from Anywhere Business Academy™, praises technology and social media and has used both to launch several successful ventures. As a military spouse and entrepreneur, she knows just how important it is to be able to communicate with clients—and market to customers—no matter where she is.
Leveraging social media
Since 2005, Roof, who earned an MBA from San Diego State and a BBA in marketing from the University of Georgia, has been helping companies develop by using social media. By 2012, she started her own firm. Then, two years later she launched TheNavyMom.com and turned her blog into a television show. Today, as the creator of The Work from Anywhere Business Academy, Roof helps other business owners thrive by offering classes, programs, and online trainings.
"I have a [Facebook] group with all of my customers where I provide extra help and guidance. I provide education through Facebook Live, and I utilize Facebook ads to reach a larger audience," Roof said.
Social media is what really helped her get started. "Facebook, Twitter, Instagram, and Pinterest have all been essential in creating relationships with potential customers and driving traffic to my website. I teach classes to people all around the world, and I'm able to do so by utilizing Zoom meetings and webinars," she added.
More technology
Besides Zoom and social media, Roof also uses WordPress for her website, and really likes the Divi theme by Elegant Themes.
"It's incredibly easy to use with their 'Divi Builder' technology," she explained. "I connect with my potential customers on a regular basis through email marketing with ConvertKit. Canva is a service I use to make my social media posts, trainings, and presentations. I also utilize Wishlist Member to run my online learning center and membership site."
Phew, that's quite a list.
But wait, there's even more…
Roof admits that there is more technology out there than she uses, and she actually has a list of things she wants to try out in 2018. But that's not all she likes technology for.
"What I need help with the most as a busy mom of two is help at home. I'd love to have technology that automatically folded and put away all of the laundry!" (Yes, we all want that piece of technology in our homes.)
In all seriousness, military spouse business owners need to have a career that can be flexible. Roof found it challenging to keep starting over every two to four years.
"I worked as a business consultant for 12 years for NBC, CBS, FOX, and the CW networks. In 2012, we had a deployment coming up and another PCS right after. I had enough of starting over, so I decided to create my own advertising and marketing agency."
She grew a successful business from home, moving twice, and then decided to change tactics.
"I saw a need in the military spouse community for more education on how to create, launch, and grow a successful business. I was inspired to create an online learning center, The Work from Anywhere Business Academy, which is a step-by-step program to building a PCS-proof business," Roof said.
And we are really glad technology and social media were there to help us find out about her. To learn more about Kayla Roof, visit http://www.kaylaroof.com/about.