From Ski Lift Operator to Small Business Owner
By: Heatherlynn Akins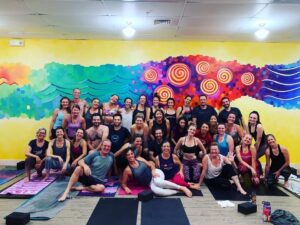 When Julie Kiddoo decided to take a year off after graduating from college in 1994 and moved to the Vail Valley in Colorado, she never thought she'd one day be a small business owner. Her parents had moved from their home state of Minnesota to Vail, and Julie thought it'd be a great idea to stay with them for the ski season. Little did she know that that decision would turn into a 25-year-long adventure in the Colorado Rocky Mountains, after meeting her husband when they both worked as ski lift operators in 1995.
Initially, Julie stayed in the ski industry. She held several jobs from the aforementioned ski lift operator to Vail Ski Patrol to guest services. Eventually, she started her own seasonal gardening business, which she operated for 12 summers before she took the plunge into full-time small business ownership. She'd been teaching yoga classes at a local club and felt limited in her capacity to lead and develop programs on a bigger scale. "I had fallen in love with Baptiste Yoga, which is the style of yoga we offer, and knew that I wanted to be able to share the practice and methodology without any constraints," she says.
Julie knew how personal the journey to self-growth and self-recovery could be. She also knew how rich and meaningful yoga could be to that journey. Still, she held back, wondering if opening her own studio was really the right thing to do. Fearing the unknown and potential failure, and now a mom to two children, Julie just couldn't pull the trigger on her dream. When one of her favorite yoga teachers and mentors was getting ready to open her second studio, Julie decided to ask her about what it was like to step into the shoes of a small business owner. She recalls her mentor telling her, "Fear will be present, but the risk of not doing it at all is far greater than the risk of doing it and failing." It was at that moment that Julie knew it was time, regardless of the risk involved.
In 2012, Julie opened Revolution Power Yoga in Avon, Colorado, a small town located near Vail. "The biggest challenge," she says, "was opening a yoga studio in a brand-new market, not knowing if it would succeed." The second biggest challenge, and one nearly as great, was finding a location that would meet her needs. It is a challenge to be a full-time resident in a mountain resort town. Space is at a premium and, as everyone knows, location is everything. Luckily, everything fell into place and Julie and her family never looked back.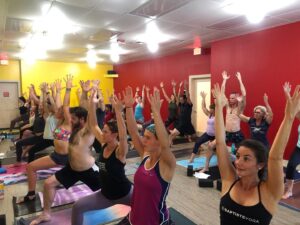 Being a small business owner comes with unique challenges. If you're looking to start your own business, Julie says there are ways of minimizing those challenges. "Make sure you are really clear on your 'why' of your business," she advises. "Know your purpose and your core values. Then, nail down your startup costs and projected overhead. And then, if you're applying for a small business loan, ask the bank for 50% more than you think you'll need." The other key advice she offers is if you're going to have a business partner, be very clear on individual duties and responsibilities and what happens if one partner decides to buy out another. Then get everything in writing.
Julie hasn't stopped at just one yoga studio. In 2019, she opened a second studio 50 miles away in Glenwood Springs, Colorado. Why so far from her first studio? It's a product of living in a rural area. Her son was entering high school and wanted to swim, but the only high school swim team practiced in Glenwood Springs. "His team is comprised of boys from five to seven different schools," she explains. "We were sitting in the Glenwood Springs High School gym for the initial sports meeting and I told my husband I didn't know anyone. He told me to think of it as my future yoga community. That made me see it in a whole different perspective." She's gotten to know the swimmers' families and the community on a deeper level and it just seemed natural that when she thought of expanding, she ended up choosing Glenwood Springs. "Knowing what an impact our Avon location made on the community, we knew without a doubt that we wanted to share Revolution Power Yoga with the community of Glenwood."
Small business ownership is challenging and exhausting, but knowing she has the freedom and independence to call the shots means a lot to Julie. There's a flexibility to the lifestyle that just isn't possible when you don't own your own business. "Trust the process," she says. "It isn't always easy and it's a lot of work, especially in the beginning, but everything always has a way of working out!" Julie and her team know their purpose: "to elevate, transform, and empower community to live in possibility, connection, and discovery." Their business model allows them the flexibility to have meaningful work while still being present and available to their families. Owning her own business is both the most challenging and the most rewarding part of her work story. As Julie says, "When times get challenging, I always have to remember to come back to my original why and to be up to something bigger than myself." It's about what she can offer to her community, no matter how large that community grows. In the end, owning her own business and being a part of a vibrant community that supports and nurtures each other are totally "worth the ride."