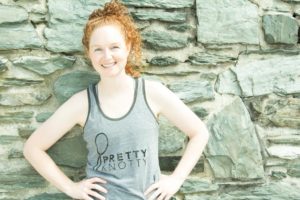 By: Rebecca Alwine
When Shelly Nicholas was growing up, she spent way too much time trying to keep her hair secured in a hair tie. Years later, when taking a venture consulting class in grad school, she developed a business plan to make a hair tie that actually works. Fast forward 10 (yes, 10!) years, and Pretty Knotty's FIT TIES are part of a flourishing company.
Most of the business owners we see in the military spouse community are either selling a product that has already been developed or selling a service. Nicholas not only sells FIT TIES, but she also created the product. With her partner Jacob Eberhart, she spent almost eight years in design and development.
"We lost a lot of time trying to develop a brand-new product," Nicholas explained. "We had several designs that could have been effective, but they were ultimately dead ends."
But after all of those years of testing, Pretty Knotty launched in February of 2017 with two versions of the FIT TIES, and six months later, they broke even financially.
"This year we are focusing on bringing our product to specialty retailers, like independently-owned running stores and women's boutiques that sell athletic apparel. We've also been exploring fitness studios and CrossFit® affiliates," she said.
Nicholas, who is the spouse of a reservist and mother to a newborn, handles the marketing, branding, and day-to-day operations. She relies heavily on two tools, Canva and Help A Reporter. "I use Canva to develop and design social media content, signage for retailer displays, and marketing materials for print ads, all with a free account," Nicholas shared. "I read the requests for sources on Help A Reporter Out each day and respond where appropriate, which has helped us get some great press coverage."
A few other resources she recommends for those looking at developing and designing products are hubs.com and the United States Patent and Trademark Office. 3DHubs is a manufacturing company—with fast turnaround times—that saved Nicholas a bit of money when they were making prototypes.
"We worked with law school clinics through the USPTO for assistance filing our provisions and non-provisional patents. They also assisted us with filing trademarks and appealing an office action regarding a trademark that we were denied. Their help was invaluable!" she said.
Nicholas explained that her FIT TIES are for everyone, but she does recommend asking yourself a few questions when considering creating a new product:
Is there a need for this specific product?
Are you able to produce it at a quality the consumer wants and at a price they will pay?
FIT TIES are a great fit for athletic types. There are two designs, which are more about the person than the type of hair.
"If you carefully and cautiously remove your hair tie, then GRIP FIT TIES are good for you," Nicholas explained. "But if you just yank it out, the SLIP FIT TIES are better for your hair."
It's safe to say that Nicholas created a product that solves the consumers' problem, was created from quality materials, and is priced within the window people are willing to pay. Pretty Knotty is certainly on the right path to make an impact on athletes this year. Hair Up, Game On™!