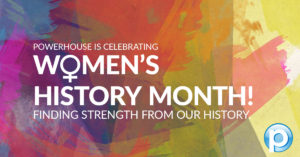 Unless you are completely oblivious, if you live in the U.S. you know that March is National Women's History Month. Yes, an entire month of the year is set aside to honor women for something we've* been doing for a long, long time—succeeding no matter what we're doing. This is especially true when it comes to business. We may not always have had our name on the company letterhead, or headed Fortune 500 companies, but we are an increasingly important part of all aspects of the workforce. In fact, nowadays it's about as likely that your direct supervisor at work is female as it is that he's male. And while it's true that we now own roughly 38% of all U.S. businesses and that 4 out of 10 of us are the primary/sole breadwinner for our families, we owe our current successes to those who bravely forged the path in previous generations.
For some of us, it may be hard to fathom a society in which women were not an integral part of the workforce. Yet, it wasn't until 1988 that Congress passed the Women's Business Ownership Act, eliminating the laws requiring women to obtain their husbands' signatures on any business documents or loan paperwork. The Act also allowed women to apply for government contracts, a world closed to them before then. Let that sink in: It wasn't until the late 1980s that women could own and run any business completely autonomously.
American women have been heading businesses, creating businesses, and running the business world in one form or another since our days as British colonists. In 1739, Elizabeth Timothy became the first American woman to head a company and the first franchise "owner" after her husband passed away. She took over her husband's franchise contract with Benjamin Franklin to publish the South-Carolina Gazette. Though nominally owned by her 14-year-old son, Peter, all acknowledged Elizabeth Timothy as the true owner/operator. In 1973, Katharine Graham assumed control of The Washington Post after her husband committed suicide. She was publisher and Chairman of the Board from 1973-1991. In 1973, Graham was the only female CEO of a Fortune 500 company. Estée Lauder and Madam C.J. Walker established and ran hugely successful cosmetic and beauty companies in the beginning of the 20th century.
While women have historically been placed in roles within the home, we haven't stayed there. By the mid-19th century, women were dominating professions dedicated to domestic pursuits, including the food industry, the fashion industry, manufacturing, nursing, and social work. The late-19th and early-20th centuries saw a boom in female entrepreneurs. During World War II, even more women entered the workforce, with more being promoted to managerial roles. Post-war, women refused to return to the home and continued to be an active, integral part of the workplace. Today, women head Fortune 500 companies, including those long thought of as within the purview only of men, such as the car and aviation industries.
We aren't just breaking the glass ceiling in terms of large corporations either. We are reinventing what it means to be a businesswoman, an entrepreneur, and a CEO. We are finding niches that need to be filled and filling them. Women, such as Powerhouse's own Jessica Bertsch, are looking around and saying, "I'm just not satisfied with what I'm seeing." Jessica, a military spouse, wanted a career, not a series of jobs as she followed her husband from city to city in furtherance of his career. Prior to her marriage, she had a career in marketing. Once she became both a family woman and a woman who desired a career, she wanted something that would provide a balance between the two. She also felt passionately about military spouses and veterans being able to have careers, not jobs, while still having plenty of time for family. So, she took a risk, and on September 11, 2012, she created Powerhouse Planning with a goal to hire a virtual workforce to support companies in a variety of ways using talent culled from across the country. She's not a traditional CEO, but six years later, Powerhouse has grown beyond her wildest dreams, with a workforce that calls 12 states home and is only looking forward to more growth and success.
Women like Jessica are only following in the footsteps of generations of talented, driven women. Women who looked around and thought, "There is more I can contribute. More I can do." Women who took a risk, and in so doing, furthered a movement toward equality and the greater good. Women who had passion for a professional life beyond the home. Women whose idea of fun and fulfillment was to be out there working.
Katharine Graham once said, "To love what you do and feel that it matters—how could anything be more fun?" Today's professional woman is doing just that—having fun while making a real contribution both professionally and personally. So, this March we are tipping our hats to the women who came before and making a promise. Thank you for making possible the fun we're having today, and we vow not to stop doing what we love.
Information for this blog came from the following sources. Feel free to check them out and learn even more about women in the workforce, both historically and presently:
amhistory.si.edu/archives/wib-tour/historical.pdf
allbusinessschools.com/business-administration/women-in-business
hbswk.hbs.edu/item/enterprising-womena-history
https://www.naturals2go.com/women-entrepreneurs-history-women-business/
*Powerhouse is not a women-only business, but we are insanely proud of the women who do work here and their accomplishments.