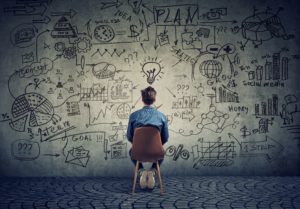 Most of us have probably heard that old saying, "If you fail to plan, you plan to fail." There's a lot of truth in that, even if we don't always want to admit it. Planning—whether you're planning for a new business, planning for an existing one, or just trying to manage life goals on the horizon—is crucial to success, as exciting as it is. Let's face it: We all love the dream stage. Thinking about how things will be once the initial work is over is fun. The nitty gritty details of planning how to get from the dream stage to the realities of success? Not so much. Yet there are very real, very important reasons why planning can make or break any dream.
1. Planning provides specific goals/objectives.
Brian Tracy invented the six P formula for personal and business success: "Proper Prior Planning Prevents Poor Performance." Not surprisingly, his very first suggestion for ensuring success is to organize your thinking. J.D. Meier, bestselling author of Getting Results the Agile Way, states, "…planning helps organize your thinking, shape your future actions, and prepare for the good, the bad, and the downright ugly." It's true. Planning results in specific goals or objectives that everyone in your company can look to as guiding principles for both the big and the little decisions that must be made daily.
2. Planning allows for more control.
The more control you have over a situation, the easier it is to handle. By carefully planning the actions you will take, you remove a lot of the guess work from a situation. You can identify potential flaws in your plan or your execution and correct before they become impossible to manage. Kamran Akbarzadeh, founder of Dream Achievers Academy, notes, "Without proper planning we would not be ready to respond to challenges." He goes on to say, "Planning ahead helps you and your organization become assertive in taking risks and saying no to either conservative or aggressive approaches." If we are in control of our path, we have a greater chance to succeed.
3. Planning streamlines/makes us more efficient.
This seems like a no-brainer. Having a plan eliminates waste. Of time, of money, of resources, you name it—planning is the efficiency tool of choice. A little time spent planning how teams will be built, what resources you should focus on building this year, or even how you will spend your time can lead to massive payoff in the end. Take the time now to plan how best to utilize what you have so you're not scrambling in the future.
4. Planning helps identify potential challenges.
There's nothing like planning for every eventuality. The best asset of planning is time. Proper planning means having the time to think about every possible outcome and to identify what steps can be taken to combat and overcome each challenge. The absolute best factor to take into account when planning is that your plans will change. By taking some time now to identify how your plans might change and what strategies you can implement when life throws you that curve ball, you can save yourself some serious headaches later.
5. Planning strengthens teamwork.
Truly, the bedrock of any organization is the people who work there. Planning fosters an innate ability to build the best teams and to provide them with the framework in which to succeed. If every member of a team is fully aware of the plan and its implementation, they can more efficiently and effectively carry out their duties. In addition, when everyone knows the plan, it's much easier to figure out how to make individual contributions fit the planned whole. In 2013, Johns Hopkins Medicine (JHM) implemented its first ever five-year strategic plan. Reflecting on its success in 2018, Dean/CEO Paul Rothman said, "A strategic plan is only as good as the people who execute the strategies, and faculty and members across JHM embraced the plan and did their part to make the vision a reality." The team members at JHM knew the plan and were able to keep it in mind when working their individual parts. The plan was such a success that JHM launched a second five-year plan called Innovation 2023.
Planning can make or break a business. It's important to plan, to plan early, and to reassess the effectiveness of the plan often. Remember, no plan is perfect and there will be eventualities you just can't imagine. However, knowing your objectives, having confidence you have the right team and the right time, and feeling in control of every situation are exactly how early planning allows us to overcome and succeed.
For more information on planning early and why it's a good thing, check out the following articles:
Dream Achievers Academy | "Six Reasons Why Planning Ahead Matters"
Johns Hopkins Medicine | "The Benefits of Good Planning"
Sources of Insight | "7 Advantages of Proper Prior Planning"
Cliffs Notes on Planning
Management Study Guide