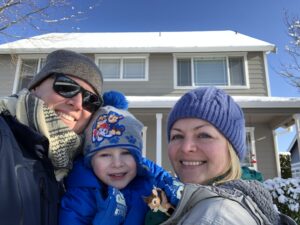 By now you're probably well aware that we love anniversaries here at Powerhouse. Any excuse to celebrate our incredibly talented coworkers makes us happy. So, of course, we are thrilled that our very own Julie Kirchner is celebrating her one-year Powerhouse work anniversary! Julie, or Jules to those who love her most (we definitely consider ourselves among that number), is one of our freelance writers whose current favorite Powerhouse role is grant writer. It may be a bit of a different approach, but our grant writers work as an amazing team to provide the most meaningful opportunities to our clients. Julie especially loves the research involved in grant writing, and it shows. In addition to her grant-writing skills, Julie writes monthly blog resources about topics relevant to homeownership and military life, a topic near and dear to her heart as she is a proud Coast Guard spouse.
Julie's favorite thing about Powerhouse is its very nature. The flexibility to work when she wants and be present with her family when she needs to be makes it feel like a dream job. The knowledge that every project she works will be fulfilling and rewarding doesn't hurt, either, and the people are amazing. The idea that a virtual work force can feel like a team, with the "rare and beautiful leadership" provided by our president, is almost too good to be true. Julie has high standards of leadership, but with leadership like our president and executive assistant provide, Julie says you do everything you can to "stay on this ship!" We're confident Julie will be aboard for a long time.
Julie is a self-described introvert, but one who will passionately enter into a conversation regarding a topic she's excited about. Her desire to leave a place better than she found it shows in everything she does. She intentionally looks for the small, everyday ways she can make a place or person's life better. From making her son's toy area an inviting place to play to picking up other people's trash in the park, Julie's passion to bring joy to others is contagious. We're truly better for knowing her. We love asking our writers to describe themselves because invariably we hear a version of what Julie told us: "I actually have a hard time describing myself in words." And then they tend to give us an absolutely perfect description. For instance, Julie says of herself, "I feel like I'm constantly on a search or journey for something in this life. Maybe I'm a dreamer, but I'm definitely not the carefree type. I'm a list maker—insatiably organized and analytical by nature." Yep, pretty much Julie in a nutshell!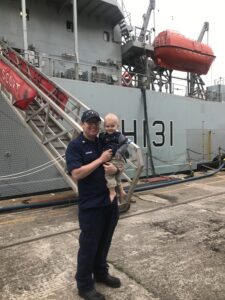 As previously mentioned, Julie is a Coast Guard spouse whose husband has been serving for 19 years. Believe it or not, they were childhood sweethearts who grew up and went their separate ways, but they found each other again seven years ago and never looked back. They're parents to the profoundly cute four-year-old Ewan who, no, was not named after a certain Star Wars actor, but who was born while they were stationed in England. Hence, the British name. Julie loves her family and their life together, but quickly points out that their life is far from perfect. So while she's happy to extol all the amazing virtues of her husband and son, she definitely has hard days. "We all have issues and struggles," she says. "You just have to resolve to keep going and looking for the things to be grateful for." Well, we're grateful for Julie and her honesty. That, and the photos she shows of her "favorite" family member, Labrador Charlie, even if he is convinced he's 107% human. (We really, really want to know how Julie arrived at that particular percentage!)
Julie loves to spend her time running outdoors when the weather allows and doing yoga when the weather isn't so fun. She also claims to love cleaning and making her house look nice and calm. While we totally believe she keeps a calm, wonderful home, we do admit to being skeptical that she considers this a favorite pastime. She loves to eat her foodie husband's cooking and curling up with her family to watch shows about tiny homes or log cabins. Even Ewan will forsake his beloved Paw Patrol to get in on the tiny house fun.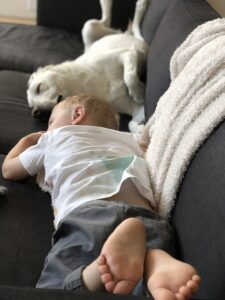 When she is in work mode, Julie has to be careful of what she describes as the "creep" that can come from working from home. You know, you're working but you feel the call of the laundry or meal preparation or a hundred other things. It's important to establish boundaries and maintain them. That's why Julie recommends having a dedicated workspace and work time. She also strongly advocates for the use of a calendar and lists to keep on topic. (Julie makes A LOT of lists!) One of her biggest suggestions, though, is to create a transition. Because there's no work commute per se, the stay-at-home worker can forget to "turn off" the workday. Julie suggests building in a transition period, whether that includes a brisk walk around the block or some personal internet surfing. For Julie, she also makes sure that she has something just for work time. This means she puts on noise-canceling headphones and listens to nature sounds when she's working. So if her work has a Zen feel to it, now you know why!
As we always do, we asked Julie to tell us something about herself that not many people know. Remember how we told you she and her Coastie reconnected after several years apart? When they reconnected and decided to spend their lives together, Julie left an established career and home to follow her husband wherever the Coast Guard took them. Knowing she'd need some sort of portable career, Julie decided to learn how to be a massage therapist. She even taught infant massage classes for a while. Before she found her dream job at Powerhouse, of course. As she says, "I have always done my best to make the most out of the twists and turns of life." We say she's definitely succeeding!