It's hard to be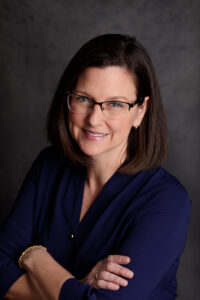 lieve we're already one month into 2021, isn't it? After the interminable year that was 2020, we've all been reveling in the promises a new year brings. Which is why we've decided to focus this installment of our employee spotlight series on one of our newer Powerhouse superstars: Heather Osborne. Among her many, many talents, Heather lends her executive assistant expertise to our clients as well as her sense of humor and positive outlook to all of us here at Powerhouse. Trust us, 2020 got so much better when Heather joined our team last April!
Heather's executive assistant talents highlight one of our lesser-known service offerings. (Seriously, if you're wondering if Powerhouse can help, take a page from that ubiquitous app tagline: there's a Powerhouse service for that!) Heather provides executive assistance for Living Off Rentals/Green Vet Homes, for whom she does everything from scheduling and preparing newsletters, to researching and finding contractors, managing social media, organizing podcasts, maintaining websites, and preparing the annual business plan documentation. Her talents allow the client to focus on growing the business and making the most of the opportunities that come around.
While Heather has been with Powerhouse for less than a year, she already has some favorite things about it. Namely, how supportive everyone is of each other and how Powerhouse provides flexibility for professional growth. Powerhouse President Jessica Bertsch is adamant about encouraging that growth; she's a master at bringing out hidden talents her freelancers weren't even sure they possessed! Just ask Heather about hosting Powerhouse's virtual "Salute to 2020" Power Hour. She brought festive fun as well as healthy reflection on what has to have been the strangest year we've ever known. Which just goes to show that the support she speaks of is something she offers in spades.
Heather is a veteran military spouse. Her husband, John, served for 26 years i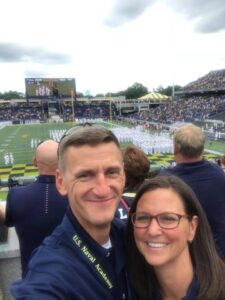 n the United States Marine Corps. She's the proud mom of three sons, the eldest of whom is currently serving in the Marine Corps; the middle son will graduate from Texas A&M this year with a civil engineering degree; and her "baby" is 14 and already both a second degree black belt and an Eagle Scout. So, Heather knows something about service, as well as how to juggle multiple schedules and cheer on amazing accomplishments. It's probably why she describes herself as someone who "likes to work" and "enjoys being part of a team." She understands how to utilize the group dynamic to get things done and thrives on being organized.
When she's not working, Heather will most likely be found spending time with her family, whether that means watching movies or geocaching, or curling up with a good book. Whatever she's doing, it's all family-oriented and designed to bring her a good work/life balance. That commitment to balancing professional and personal health is one of the other things she admires about Powerhouse and why she believes that in five years Powerhouse will still be helping businesses reach their best potential. Finding that balance means being focused and intent on work when it's work time and "turning it off at the end of the day." When you're balanced, you work better and can do more for your clients.
"Schedule everything," Heather says. Seriously. Put me time, family time, work time, all of it in the schedule. It allows you to see where you're productive and to find the places you're not quite in balance. And put family first. Putting family first will ensure that you get work done and done well so you're not interfering with what is most important in life: spending quality time with those you love.
Because we're taki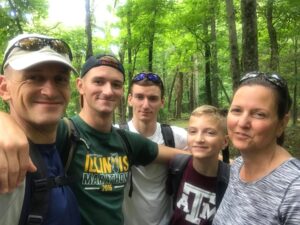 ng some time this year to focus on us, we asked Heather what her favorite services are that Powerhouse offers. She loves them all (we told you she was supportive), but admitted to a particular fascination with graphics and web design. "That creative side of Powerhouse is dynamic!" were her exact words. She added, "There always seems to be a new service that comes up every time I turn my head." So really, how could she choose just one or two favorites?
Professionally, Heather is happiest when she can take a task off clients' hands so they can manage the business side of the house. "They are happy, and it makes me happy," she says. It all goes back to that balance thing. Heather has found that "peace of mind outweighs everything." When you put faith and family first, everything else naturally tends to balance out. That makes for more successful workers and a happier, better grounded individual. It's a beautiful circle.
As always, we asked Heather to share something not many might know about her. She answered with the fact that she taught the deaf and hard of hearing for years and is fluent in sign language. We're not sure about you, but we're busy trying to figure out how to leverage that skill into another Powerhouse service . . .