Spotlight on Powerhouse's

Emily Anderson
Emily Anderson, one of the newer freelancers to join team Powerhouse, has been with us for the last nine months. As one of our marketing specialists and grant writers, Emily is currently working on behalf of two of our clients. In the short time she's been with Powerhouse, she has impressed all of us with her support, exceptional work ethic, and talent.
That feeling is mutual, according to Emily: "My favorite thing about Powerhouse? The people most definitely! I work with an amazing group of people that I have come to admire and look up to so much." She goes on to say that she learns so much from everyone at Powerhouse and feels privileged to work "with such a kind, driven, caring, and intelligent group of people." What can we say? Emily fits right into that definition!
When she's not working on behalf of her Powerhouse clients, Emily loves to challenge herself or find a new adventure. For example, her first job in high school was working in a tobacco field. "I was challenged to go into the tobacco fields and work," she explains, "so I accepted the challenge and technically that was my first job." Emily is all about the adventure, the challenge, and the discovery of new things about herself and the world around her. "I love having fun," she says. But even more than having fun, Emily loves spending time with her friends and family. "They're the most important things in my life," she says. That connection to others, and deep desire to see others happy, is what sparks her enjoyment in helping others. "I just enjoy watching them grow and succeed," she says.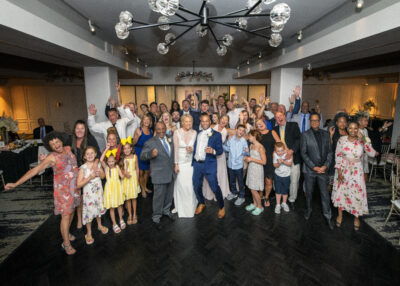 Emily and her new husband got married just the two of them at the courthouse in 2019 ("Yes, we're COVID people," she says with a laugh) and then had the big family wedding in 2021. (We're not kidding when we say she's a family person.) This outdoors-loving couple lives in the city but right next to a park they take full advantage of along with their dog. When not outdoors, they enjoy cooking and trying new things. "You might find us playing real-life food ninjas in the kitchen when it comes to cutting fruit and vegetables," she says by way of explaining that while they have no children themselves, they act enough like children to feel like the family is complete.
Emily is passionate about the work/life balance that Powerhouse strives so hard to achieve. She believes that when you work remotely it's important to create boundaries. "One thing I do," she explains when asked about maintaining a positive work/life balance, "is I have my 'work hours' and my 'no-work hours.' I make time to sit at my computer and work, and I schedule time to spend with friends and family. Create boundaries and don't feel guilty for not always being readily available to work." She points to some fantastic free resources one of our clients, HelloHealth, provides designed to help achieve positive work/life balance as well as the free resources Powerhouse has created.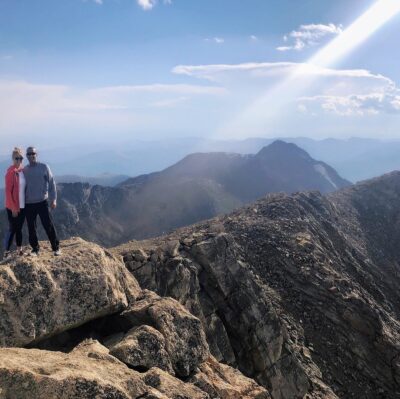 Another work passion project Emily has discovered is working with nonprofit clients. In her time with Powerhouse so far, Emily cites working on grants for Camp Cranium as her favorite: "Being able to find grants for such a great cause really makes it worth every moment we work on the project. Being able to make an impact and help really means a lot to me." Which may be why she says that one of her favorite things about Powerhouse is our grant library, a resource those who work for our nonprofit clients have access to in order to save on research time and streamline the grant-writing process. "Powerhouse sets you up for success at every turn," Emily states. Still, her absolute favorite resource at Powerhouse is the people. "The women at Powerhouse are a great resource for any project and bring their past experiences and current to the table," she says. Emily just adds to that collective knowledge.
As we always do, we asked Emily if there was anything others might not know about her that she could share. Most often, we get fun trivia or unbelievable personal history anecdotes, but Emily shared that she's lived with a chronic condition for over 20 years, which can be extremely challenging. But after only a short time with Powerhouse, she has felt comfortable sharing her journey with us, which, she says, "has meant a lot to me." That, right there, is exactly the kind of work culture we strive to cultivate every day, and we're honored Emily is a part of it.
Want to know more about how Powerhouse can help your small business? Contact us today or visit our website. Want to see if you can bring your skills to our dynamic team? Check out what a Powerhouse career could look like for you.