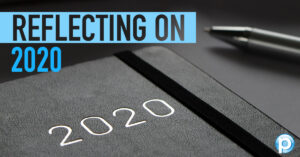 The year 2020 brought some unique, unprecedented, unexpected, "un-everything" challenges with it for our communities, our nation, and our world. You just can't escape that 2020 will go down in the history books with one main descriptor: it was the year of COVID-19. It's true that we all had to attempt some adjustments to how we do business, even to how we interact with one another. The biggest lesson we all learned has to be that, even with all the technology we are fortunate to employ, there's just no substitute for the human touch.
The skillful application of technology, specifically virtual work, to that human touch is exactly what Powerhouse Planning excels at accomplishing. In fact, 2020 was our best year ever! It does seem strange, considering the circumstances, but not only did Powerhouse have its best year ever, but our clients were incredibly successful too. The way Powerhouse is structured happens to be the way many companies had to pivot to, and we were well-placed to help them make that shift successfully. We grew our client base this year, and several of our retainer clients renewed their contracts. We enjoyed returning clients and an increase in project-based opportunities as well. We continued to work with clients such as Cape Henry Associates, Operation: Job Ready Veterans, Nomadés, and PayNet. We also added new clients, including Green Vet Homes and HelloHealth. We are blessed to work with some phenomenal companies and help them spread goodness in this world.
Our growth remained steady, largely due to the strategic vision of Powerhouse President and founder Jessica Bertsch. "We're committed to keeping our team small but highly effective. We only grow team members when we need to," she says. That strategic vision was cemented with the lessons we all learned from the pandemic this year. "People have realized that you can work smarter and harder at home because time management becomes so crucial. We've been blessed and thankful for our remote careers," she goes on to say. The experience we have with working remotely is what made the pandemic so easy to navigate; we were already used to the challenges of remote work, and we've only solidified our commitment to remaining a strong, vibrant virtual work community.
One of our favorite things about Powerhouse is our "Share the Goodness" campaign. Jessica made a conscious decision when she started Powerhouse that she would give back 10% to our communities across the world. This year, we sponsored multiple children through The Children's Hunger Project of Brevard County, Florida as well as continued our support of our sponsor child, Ambiya, through World Vision. Ambiya was the first recipient of what became our "Share the Goodness" endeavor, and she remains a Powerhouse employee favorite. We helped provide 10 families with Thanksgiving meal baskets with the Space Coast Basket Brigade, and Powerhouse Operations Manager Jennifer Kirkpatrick led the charge to raise funds for 25 more. Powerhouse's Indiana State University (our founder's alma mater) scholarship supported a professional aviation flight technology major who used the funds to pursue his dream of becoming a professional pilot by working to earn his commercial aviation licenses. We also founded a Salute to Sisterhood Scholarship with the AOII Foundation, which will serve to help young women interested in leadership opportunities.
We asked Jessica and Jennifer if there was anything they'd add that summed up 2020, lessons learned, inspirational quotes, really anything. Jessica offered, "I keep coming back to that phrase, 'My plate is full.' You know, the idea that you have all you can handle. For me, God gave me a full platter. That's a blessing, but what I've learned this year is that I need to ask for help. In the end, by asking for help I appreciate others more and we can still do so much and make a big difference. In other words, self-care is huge." Jennifer added that when you ask for help you should consider how that makes others feel. "If we communicate and ask for help when we need it, we come together and are stronger as a team." Those who are asked to help feel important and appreciated, and those who receive support are doubly blessed.
Communication really is key, and it's something Powerhouse has worked on this year in particular. "We've worked hard to create an open, inviting environment. Our brainstorming meetings with the team are some of my favorite work memories from this year," Jennifer said. Jessica added that it's been a year dedicated to focusing on our team members. "We started with a few of what we call Power Hours. Small, volunteer, virtual meetings with our team members that don't necessarily have anything to do with work. We also added a quarterly State of Powerhouse address where we let our team know what's going on. We didn't realize how crucial these two things were at first, but what we've learned is that our team craves that transparency and ability to get to know one another. Creating that bond is one of the reasons we're such a unique and effective virtual workforce."
Moving into 2021, we'll continue to focus on improved communication and transparency with our team. We'll be the same in all the right ways, just better able to help our clients make a difference. And that's really what drives us at the end of the day—taking the talents we have and applying them to our clients' needs in order to be a force for good. Our clients are all working hard to better our world, and we love being able to help them achieve or surpass their goals. Still, Jessica hopes that 2021 brings back some of the normalcy 2020 took away. "I miss our people," she says. "I can't wait to be able to travel to our clients again. I'm grateful that we had our best year ever, but I look forward to getting back to building our relationships in person." We couldn't agree more.