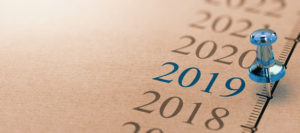 Can you believe that 2019 is just about one-twelfth over? It seems like yesterday we were celebrating an awesomely successful 2018. Here at PH, though, we don't like to rest on our laurels, and we want to a take a little time to let you know what excites us about this year.
First, we love having clients we can consistently help and see grow. Really, it's one of our favorite things! In 2019, we look forward to continued growth among our retainer clients. We offer such a wide variety of services and goodness that our clients can consider us a one-stop shop. We're launching into 2019 thrilled at the prospect of continuing to grow the relationships we have and foster new ones. Specifically, we're looking to increase content-driven partnerships. After all, we're really, really good at creating content, and we're only getting better. So, should you wish to talk content, let us know—we'd love to help!
Along the same lines, we love our nonprofit clients. They completely own our hearts because each and every one is helping in so many different ways. We're able to provide them a bevy of services for the price of one full-time employee. From grant writing, to graphic design and IT support, to project management, we're able to help our clients stretch their budgets so their money can go where it can do the most good. In 2019, we hope to partner with even more nonprofit clients; when we're an ideal dream team for them, it's a win-win all around.
As always, our founder and president, Jessica Bertsch, loves to give back. This year, we will continue to give charitable contributions through our Share the Goodness campaign. Check out what we were able to do in 2018 and some of the organizations we helped. As part of our Share the Goodness campaign in 2019, we will continue to grow and give to the scholarship program we established with Indiana State University. Why Indiana State? Well, Jessica is an alumna, and besides, Indiana State is home of the mighty Sycamores! (Yes, we chuckle about that, too.)
Before we go, we just want to give you a taste of some of the content you'll see from Powerhouse this year. We'll have spring cleaning checklists for your company and for you (because everyone loves spring cleaning…Well, we feel way better after we've done it, anyway!) as well as checklists for grant writers and ideas about what you should have in your grant-writing library; we'll tell you what the top five stressors are when starting a business; we'll highlight cybersecurity, an ever-growing concern; and we'll talk about decluttering your website. We will also be highlighting some our team members who produce top-notch, out-of-this-world content and make Powerhouse the success it is. Maybe we'll even be able to convince Jessica to make a special appearance. One thing we hope you've learned by now is that Powerhouse loves to surprise, and 2019 promises to be a year full of (great) surprises!