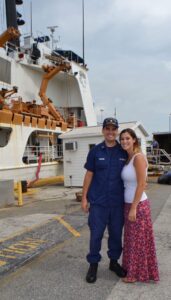 One of Powerhouse's social media specialists and grant writers, Meghan Traynor, is celebrating her second anniversary with Powerhouse this month, and we're excited to feature her in our "Spotlight" series. In her social media role, Meghan, "Megs" to her family and friends, offers social media support to small businesses by developing engaging content that represents their brands. In her position as a grant writer, she supports our nonprofit clients to find and gain the financial support they need to carry out their missions. Whichever hat she's wearing, Meghan is a rock star, and we're lucky she calls Powerhouse her work home.
Meghan, like all of us here, absolutely loves Powerhouse and the culture President Jessica Bertsch has cultivated. It is truly unlike any other virtual work force, and Meghan loves the support she receives from everyone on the team as well as the opportunity to provide support herself. "I love getting to know everyone during the virtual POWER hours and book clubs, and most importantly I love all the goodness the Powerhouse team puts out!" Meghan says. Being a freelancer with Powerhouse is "very rewarding" and exactly the fit she was looking for when she found out she was going to be a mom.
With a degree in education, Meghan's core identity is as someone who deeply desires to help others. She typically wears her heart on her sleeve and feels best when she's doing work that matters—something that Powerhouse provides her. In addition to her virtual-work family, Meghan is blessed to be a wife and mother. Her husband, Andy, has served in the Coast Guard for 12 years and counting, and two years ago they welcomed their son, Ryan.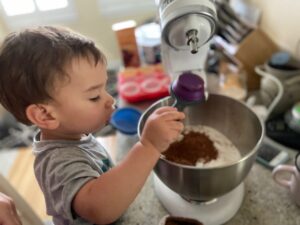 Meghan loves spending quality time with her family making memories. She's an avid baker and crafter, and Ryan loves helping her in the kitchen, no matter what she's making. Because she believes baking is good for the soul, she's happy to see that Ryan seems to enjoy it too and is always eager to get his hands in the dough. They don't leave Andy out, though; the family enjoys spending their time together outdoors whenever possible. Whether it's playing on a beach somewhere, hiking or camping, or just being in their own backyard, they make the most of outdoor spaces no matter where they're stationed.
When she focuses on her professional duties, Meghan does it on a schedule. While she loves the flexibility that freelance work affords her, she's found that if she makes and sticks to a schedule, she's much more productive with her workday, no matter when that part of her day happens. She also adds "extra time" at the end of her day just in case life happens. In fact, making and sticking to a schedule is her number one tip for those beginning a freelance career, followed closely by "write everything down." And she does mean everything. "Whether it be ideas for clients, or work you need to get done, writing it down helps me remember to circle back to an idea. There is just something so satisfying about crossing stuff off a to-do list," she says. She also encourages everyone to keep learning. She loves learning (hence the education degree) and growing her skill set, especially in her professional life.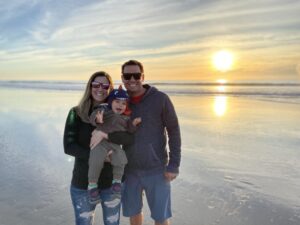 We asked Meghan to share something fun about herself that not many people know. She shared that she's one of the few Powerhouse freelancers who has met both our president and our executive assistant, Jennifer Kirkpatrick, when all of their husbands were stationed on the same Coast Guard ship. She also disclosed that once upon a time she was a competitive cheerleader who took dance and gymnastics to help her with that passion. Meghan has always dreamed of starting a baking therapy class for children to incorporate her twin loves of baking and helping others. Knowing Meghan, she'll make that dream a reality someday. Those of us at Powerhouse will be happy to taste test any recipes she wants to share whenever we get around to having that in-person retreat we're always talking about. That, and we'll be happy to help her write some outstanding grant proposals to ensure her dream's success.