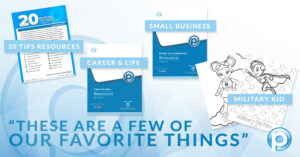 Have you ever checked out the Resource Library on our website? It is full of helpful, free resources that cover everything from small business start-up to coloring pages for your kiddos. We're dedicated to providing resources that provide the most up-to-date information to help you make the best decisions possible for your careers, your life transitions, and more. Here are a few of our favorite resources.
We're all about small businesses here at Powerhouse (being one ourselves, after all). Having been through the entire process herself, Powerhouse President Jessica Bertsch wants to do her part to make the process easier to navigate for others. So, if you've ever even thought about opening your own small business, you should check out these resources.
Starting Your Small Business is exactly what it sounds like—a resource that will take you through the initial steps necessary to get your small business off the ground.
Business Plan takes you through the process of setting up your own business plan to ensure you stay on the track you want.
Branding Your Business introduces you to the basics of marketing your business.
In-Office Team Building and Virtual Team Building are resources designed to help you build and maintain a strong, dynamic team whether your business have in-person employees or virtual ones.
Business Refresh, Goal Brainstorming, and Spring-Clean Your Business will help you redirect your goals and discover what's working and what needs a little tweak.
Direct Sales is for all of you out there who are thinking of starting your own direct sales business. This resource even has tips for those of you who have been doing direct sales for a while.
Need to attend or plan a conference? Check out our Conference Attendance Checklist to ensure you don't forget or miss a thing.
Nonprofits, do you need to start writing grants? Our Grant Library and Checklist for Grant Writers are exactly where you need to start.
Bonus resource: We even have a handy calendar of notable American holidays and military dates to help you plan your year.
Career and Life Transitions Resources
We all experience those times in life where we're preparing for, or in the midst of, a life change. Whether it's a career change, a personal change, or an organic transition from one phase of life to another, we've got you covered. Most of us at Powerhouse are veterans in the transition game, and we want to help others by providing some resources based on our "lessons learned."
Moving soon? Check out our Move Binder. This handy resource will help you keep track of every part of the moving process. From deciding how and what to pack, to scheduling movers, to making travel plans, the Move Binder keeps you organized during a traditionally chaotic time.
Do you find yourself faced with becoming a military spouse? Don't worry, a lot of us did too once upon a time. Our Transitioning to Military Spouse Life resource will demystify the transition period and help you gain an understanding of an utterly unique, and rewarding, life change.
Retiring soon? Check out our Transitioning Toward Retirement Designed specifically with our active-duty military families in mind, it helps you keep sane during a stressful time. With checklists to guide you through the process, beginning one to two years preretirement through to the "other side," this resource gives you timelines and tips for dealing with all aspects of the process.
Finally, no matter what your career stage, we've got resources to help you find the right job for you. From resume tips and samples to interview checklists, we've got the resources to help ease the process, whether you're changing careers, reentering the workforce after an extended leave of absence, or transitioning from the military to the civilian workforce.
Bonus resource: Want to do something simple to support our military families that doesn't cost a thing? We have a 30-day calendar of ways to pray for those families who sacrifice so much for all of us.
In 2020, we created a "20 Tips" resource every month that focused on a different aspect of small businesses. These are some of our favorites:
"20 Tips for Time Management"
"20 Tools & Resources for the Small Business"
"20 Ways to Measure Business Growth"
"20 Tips for Freelance Success"
"20 Tips to Have Fun at Work"
Find them all here, including one particularly relevant to today, "20 Tips for Leading Your Business Through Challenging Times."
Finally, our military kids are some of America's smallest heroes. In honor of the sacrifices they make, we have created a gallery of Military Kid Hero coloring pages. Perfect for those long hours in the car during PCS season, or just to keep your youngest "office assistants" busy and productive while you check out our other resources, download and print out all these coloring pages.
Powerhouse produces a quarterly newsletter delivered right to your inbox. Full of stories for inspiration, business tips, and tons more, this is one of our favorite resources. Sign up to receive our newsletter and check out past editions anytime. In addition, we are always updating our website's blog, which is full of tips, additional resources, and lots of information on the Powerhouse team.
We'd love to hear what resources have been most helpful to you. Please contact us, and always remember, the resources are here for you to use whenever and as often as you'd like (or share with a friend). But if you find yourself in need of more help, Powerhouse's team of freelancers stands ready to assist you.