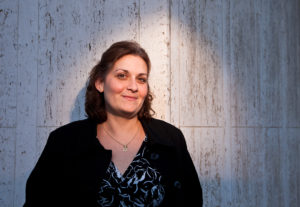 Randi Cairns is one of Powerhouse's writers extraordinaire. She pretty much handles it all, from content creation, to technical writing, to grant writing. If one of our clients needs a writer of any kind, Randi is one we go to first! Currently, she turns her talents to clients like Operation: Job Ready Veterans (grant writing), MILLIE/Agent Intel (blog and e-newsletter writing), and Powerhouse (content/resource creation, and blogs/newsletter article writing). So, as you can see, we're not exaggerating when we say she can write anything.
Randi has been with Powerhouse for three years. She loves that we're all about our team and that our team is family. She is inspired by the incredibly talented people she gets to call co-workers, and she considers Jessica Bertsch to be "one of the most genuine and caring business owner you could ever hope to know and work for/with." Yep, we concur 100%. Is it any wonder that in five years Randi sees "total world domination in the best possible way for Powerhouse"? Randi hopes she gets to be along for the ride, and we sincerely hope she is because she'll be one of the reasons for that domination.
Randi's professional heart belongs to helping businesses succeed, especially nonprofits or those that have a mission to help others. Personally, she describes herself as "the offspring of a fierce, protective mama bear and a tree-hugging do-gooder." For her it's all about advocacy for those in need and all-encompassing love. As she says, "Nobody gets to mess with my village, and my village grows daily." (May we just interject that we love writing pieces about writers? They have the BEST one-liners!)
Referencing that mama bear side of her, Randi is mom to four of the most awesome military "brats" (we'd humbly like to offer that that term should be "mini-heroes") of all time who are now 25, 23, 15, and 14 years old. They are the best part of her day, each and every day, even if just seeing those ages in writing causes a gray hair to appear. In addition to being an exceptional mother and a national advocate for military families for over two decades, Randi spends what little free time she has with her children, binging on Netflix/Hulu, reading, cooking, or writing for fun. She also likes "piña coladas and getting caught in the rain" (maybe this is a Powerhouse thing?), though she doesn't have time for most of these activities right now. She's too busy advocating for those who can't speak for themselves and raising productive members of the next fierce generation.
We asked Randi for some tidbits nobody knows about her, and she provided us with two absolute gems that truly sum up who she is. First, while her husband was deployed, Randi spent two hours cutting a cast off her leg with a steak knife so she could drive her kids places and get to work. She succeeded, but admits that the surgery she had to have to repair the damage she caused may not have been as empowering as the act that made it necessary. Two, she delivered her third child by herself in the bathroom of an Olive Garden about 30 minutes after she saw her OB, who told Randi that she was crazy for thinking she was in labor. The only things she regrets? That her son doesn't get free Olive Garden for life and that there's no commemorative plaque in that bathroom stall. Yep, this is why we love her.
So, as Randi says, "If you want the world's best team of highly skilled and amazingly competent professionals to create magic for your business or nonprofit, led by a business owner with a heart of gold and a commitment to providing the best possible service, and you're not already putting Powerhouse Planning to work for you, you should ask yourself why not and change that immediately." If you do, it's entirely likely that Randi will put her immense talents to work for you, and we're pretty sure her village will grow just that much bigger. After all, who doesn't want a mama bear/tree-hugging do-gooder on their side?