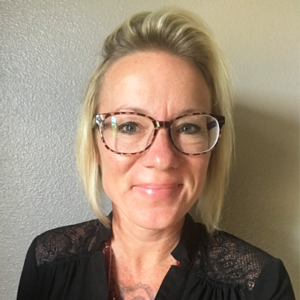 We love anniversaries here at Powerhouse, and we're thrilled to be celebrating Julie Clark's one-year Powerhouse anniversary. Julie is one of our extremely talented social media specialists or, if you'd like, strategists. In her first year here she's already served clients such as Cape Henry Associates, Jacey Eckhart, and Agent Intel/MILLIE. As Powerhouse President Jess Bertsch is fond of saying, "She's seriously talented, y'all!"
We asked Julie to reflect on what she loves about Powerhouse, and she said, "From my first phone interview, which was on a weekend or weeknight, I knew Powerhouse would be a great fit for me. Jess understands that freelance work involves unusual hours and unusual work environments." Very true. She also loves that even though we're all working from diverse locations and time zones, Powerhouse still makes her feel like she's part of a real team. Almost as if our virtual office were a real office setting. No matter what project she's working on, Julie never feels as if she's alone on a task. That collaborative feel is there, no matter that we might have some unconventional remote offices.
Julie is a fantastically creative thinker who has had a passion for entrepreneurship from a very young age. We're pretty sure she was hustling a slew of lemonade stands and was a top sales earner in any fundraising efforts she participated in growing up. Julie's confidence, common sense, and drive have helped her create and sell several businesses over the years. And she always has new business ideas percolating.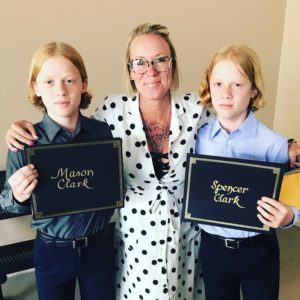 While Julie is not a military veteran or spouse, she is the daughter of an Army veteran and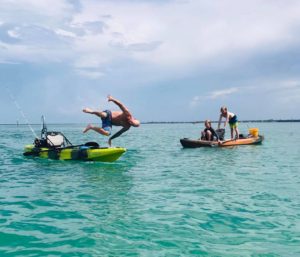 the wife of a fireman. She and her husband eloped in 2002 and were married on top of Grandfather Mountain in North Carolina. Today, they are the proud parents of three children, a sixteen-year-old daughter and twelve-year-old identical twin boys. They love experiencing the outdoors together and can be found doing anything from kayaking, snorkeling, fishing, hiking, camping, or exploring new nature preserves and beaches. They live on Florida's Space Coast, which means they can indulge in their outdoor passions year-round. Julie, especially, has really taken to kayaking in recent years. She even takes strangers on guided kayaking tours, which stretches her introverted ways but has been infinitely rewarding.
Because we're focusing on giving back this month, we asked Julie (who also has a passion for giving back) what ways she gives back to her community. She told us that she routinely supports several fundraisers related to her husband's work at the fire department, the annual Rockledge Professional Firefighter's Toy Drive and Breast Cancer Awareness T-shirt Drive. The proceeds support local families in need over the holidays and local breast cancer survivors.
Julie and her husband are constantly looking for ways to help their community and are committed to instilling a passion for volunteerism in their three children. As Julie says, "It's important to remember not to take anything for granted, whether health or financially, and to look for opportunities to help others who are less fortunate." Giving back doesn't have to be done on a grand scale either. "Don't overthink it," she states, "It can be as simple as reaching for that item on the top shelf of a grocery store you see someone struggling to reach, or picking up a few items of trash after a day at the beach." Giving back doesn't require money or even a lot of time. The little things add up and are just as significant.
Julie's passion for work, life, and her community mean she'll be a part of the Powerhouse team just as long as she wants. Well, that and the fact that she is amazing at what she does. She sees Powerhouse experiencing tons of client growth in the next few years. She's learned a lot in her year here and thinks Powerhouse will continue to impress with our dedication to our clients and the quality of work we produce.
As we always do, we asked Julie for a fun fact about herself. She told us she's a bit of a nerd about looking for fossils and treasure. In another life, she would have been an archaeologist or paleontologist. Recently, she took a solo trip to the Peace River in the middle of nowhere to look for ancient treasures with a sifter her husband built her. While she hasn't found evidence of a never-before-seen dinosaur yet, she has collected fossilized bones and shark teeth. She also dreams of finding treasure in one of the many shipwrecks off the Florida coast.
Julie left us with a challenge that we're going to pass along to you: This week, make a small gesture to give back to your community. If you accept this challenge, we'd love to hear about your experiences. Even if you simply bring a smile to someone's face, you've impacted your community for the better.