From Ski Lift Operator to Small Business Owner
By: Heatherlynn Akins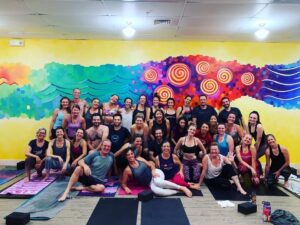 When Julie Kiddoo decided to take a year off after graduating from college in 1994 and moved to the Vail Valley in Colorado, she never thought she'd one day be a small business owner. Her parents had moved from their home state of Minnesota to Vail, and Julie thought it'd be a great idea to stay with them for the ski season. Little did she know that that decision would turn into a 25-year-long adventure in the Colorado Rocky Mountains, after meeting her husband when they both worked as ski lift operators in 1995.
Initially, Julie stayed in the ski industry. She held several jobs from the aforementioned ski lift operator to Vail Ski Patrol to guest services. Eventually, she started her own seasonal gardening business, which she operated for 12 summers before she took the plunge into full-time small business ownership. She'd been teaching yoga classes at a local club and felt limited in her capacity to lead and develop programs on a bigger scale. "I had fallen in love with Baptiste Yoga, which is the style of yoga we offer, and knew that I wanted to be able to share the practice and methodology without any constraints," she says.
Julie knew how personal the journey to self-growth and self-recovery could be. She also knew how rich and meaningful yoga could be to that journey. Still, she held back, wondering if opening her own studio was really the right thing to do. Fearing the unknown and potential failure, and now a mom to two children, Julie just couldn't pull the trigger on her dream. When one of her favorite yoga teachers and mentors was getting ready to open her second studio, Julie decided to ask her about what it was like to step into the shoes of a small business owner. She recalls her mentor telling her, "Fear will be present, but the risk of not doing it at all is far greater than the risk of doing it and failing." It was at that moment that Julie knew it was time, regardless of the risk involved.
In 2012, Julie opened Revolution Power Yoga in Avon, Colorado, a small town located near Vail. "The biggest challenge," she says, "was opening a yoga studio in a brand-new market, not knowing if it would succeed." The second biggest challenge, and one nearly as great, was finding a location that would meet her needs. It is a challenge to be a full-time resident in a mountain resort town. Space is at a premium and, as everyone knows, location is everything. Luckily, everything fell into place and Julie and her family never looked back. (more…)