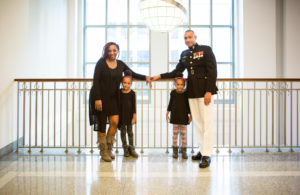 By: Lakesha Cole
I caught myself this morning putting on makeup with one hand, the other occupied with a toddler whining because she can't wear red lipstick to school, all the while remaining fully engrossed in a foreign conversation about anime with my STEM-loving 13-year-old daughter. I'm a work-from-home-mom, author, speaker, and retail entrepreneur. These post-military days, I raise my kids in Tampa, Florida and run businesses in North Carolina and Virginia. Are you exhausted yet?
Moms everywhere are making it happen and "having it all," concurrently starting and nurturing small businesses and small humans—both of which are never-ending jobs.
Meet Tiffany Eve Lawrence, mommy and founder of Covered Cubs. She's a Marine spouse and mom to twin 6-year-old daughters, Lyla and Ava. She's known among her friends as the outgoing and outspoken one who makes friends easily. Her interpersonal skills suited her well for military life and led her to start her own business. Tiffany is hands down one of the most genuine and inspiring examples of mom entrepreneur success I could share with you today.