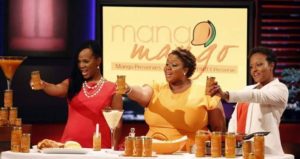 By: Bianca Strzalkowski
Spread it! Mix it! Shake it! Stir it!
Lakesha Brown-Renfro delivers a party with every order. Whether it is one of her products or services, the Navy wife of 18 years gives customers an experience that has helped her grow and build a diverse business empire. She and two partners launched their first company—Simply Panache, an event planning firm—in 2011.
She said she had the entrepreneurial spirit since she was a young child, first starting with a lemonade stand, followed by a hair bow business, and then she created a teen membership club. Brown-Renfro and her friends eventually coordinated parties that caught the attention of friends, family, and even strangers.
"At this point, I started thinking that I could do this as a business, and the event planning company was born," she said.
Front and center of Simply Panache was a product that would ultimately become the signature item and foundation of the brand. Mango Mango is a gourmet mango preserve with over 100 uses. It earned the reputation of a "party in the jar" with Brown-Renfro's robust marketing plan. She started by selling the product online, at farmers' markets, and in local and national stores. As the business grew, so did the opportunities.
Three years ago, her team appeared on ABC's hit show Shark Tank. Valuable learning lessons came from the experience.