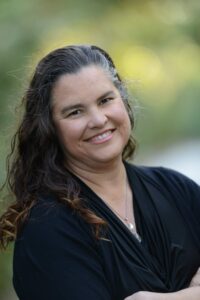 Anne Jeanene (AJ) McCoy Bengoa loves design, data, and working with a team of positive people. She is excited to begin a new journey of learning and growth with Powerhouse Planning, contributing however she can.
AJ grew up in Miami, Florida and moved to Washington, D.C. upon the completion of her undergraduate degrees. There she worked full time for a small business government contractor and pursued her first master's degree. She then moved to Florida's Space Coast to pursue post-graduate opportunities. There she met her amazing husband, a real-life rocket scientist who works for NASA, and they have been married for over 15 years. She has been busy raising their two kids, working part-time, and volunteering while enjoying the beauties and wonders of Central Florida's waterways and all the joys of living where rocket launches may be common occurrences, yet are a marvel every time.
Never one to be idle, up until she had kids, AJ was almost always managing at least two jobs and volunteering on the side. Her life and career have been guided by her heart more than any goal, and she has constantly tried to embrace the many amazing opportunities that have come her way. Therefore, her experience is peppered with all sorts of jobs: graphic designer, teacher's assistant, research scientist, dive master, and GIS specialist, just to name a few. Her two primary focuses have been science and design, but other interests and skills have managed to employ her as well during her life. These broad and diverse interests keep her happily engaged and learning all the time, as the pace of the career landscape is constantly changing.
AJ's most recent degree was a master's earned from the Geographic Information Science & Technology program at the University of Southern California. AJ has three additional degrees from the University of Miami and the University of Maryland, in marine science, biology, and graphic design, which allude to the dual careers she has maintained throughout her life. Over the years, she has worked for NOAA, University of Central Florida, NOVA Research Company, National Park Service, Disney's Animal Programs, University of Miami, Brevard County Public Schools, the Florida Department of Health, and the Florida Department of Environmental Protection. She has been involved in all manner of graphic design; data collection, management, analysis, display, and distribution; as well as every aspect of publication, from literature reviews, writing, editing, and printing, with a particular focus on the visualization of data.
AJ loves camping, crafting, and any activity that involves water. AJ's favorite place in the world is floating in an inner tube down one of Florida's many spring-fed rivers, and scuba diving anywhere is a very close second.