Welcome back to one of our favorite blog series here at Powerhouse. We just love getting to highlight some of the incredible talent we're fortunate to work with every day. This month's "Spotlight" features a true behind-the-scenes master—Dean Kokoris. We're not sure how he does it, but Dean makes the myste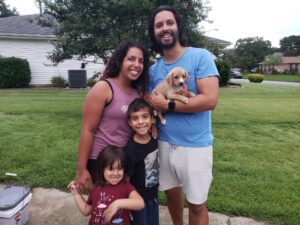 rious behind-the-scenes world of Powerhouse work for him (and us) in masterful ways.
Dean is one of our graphic designers and is celebrating his third anniversary with Powerhouse in November. While Dean manages (mostly) to stay out of the spotlight, we convinced him to step into our flattering lights at least this once. Dean works his magic on our own materials as well as for our client Coastal Addiction. If you haven't been introduced to Coastal Addiction, please check out their website for some fantastic apparel options. But we digress…
When asked what he likes most about working with Powerhouse, Dean said that the flexibility and the outlet for creativity he enjoys are the best. As a completely virtual workforce, flexibility is something Powerhouse excels at providing. Our freelancers are exceptionally talented (like crazy amounts of talent!), and we work hard to promote a safe space in which to allow those talents to grow in unexpected directions.
Dean's dad was in the Air Force, which gives him a unique perspective working virtually alongside a lot of military spouses. He's married with two young children, a boy and a girl ages three and six, who keep him on his toes when he's not hard at work. Because Dean says he prefers to let others describe him, we asked Powerhouse President Jessica Bertsch and the world's greatest administrative assistant, Jennifer Kirkpatrick, for their thoughts on just exactly who Dean is. "Dean is talented, intelligent, kind, and professional," says Jen. "He delivers quality work on time and often early." Jess agrees, adding that his focus is inspiring. When he's on the job, he's on the job.
When not at work, Dean enjoys indulging in his favorite hobby, carpentry. It's really too bad we all work from different spots in the country, or we're pretty sure we could keep Dean in carpentry work for a good long while! While he values his carpentry time, he also loves time at the beach, which is something that works into Dean's personal philosophy: "Work to live, not live to work." Family comes first for Dean. "Never sacrifice time with family for work," he told us. "There will always be a work emergency, but there are only so many firsts to be a part of with your kids." By sticking to the work schedule you set for yourself, you can ensure those family firsts will be things you'll experience firsthand.
This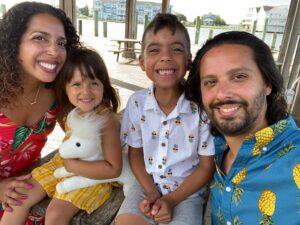 month, we're focusing on setting goals, so we asked Dean to share any words of wisdom he might have. Of course, he quoted Monty Python:
"Always look on the bright side of life.
If life seems jolly rotten
There's something you've forgotten
And that's to laugh and smile and dance and sing
When you're feeling in the dumps
Don't be silly chumps
Just purse your lips and whistle, that's the thing
And always look on the bright side of life."
He was a little more serious when we asked him what advice he'd give a fellow freelancer just starting out. "Know your value, strengths, and weaknesses," he said. "Don't undervalue yourself."
Dean, like most of our freelancers, is a Powerhouse fan. He definitely sees himself continuing to help us share the goodness. Through his work with Powerhouse and our clients, Dean feels that he has achieved a great balance between work, life, and all those firsts.
Naturally, we asked him to share something nobody else knew. He told us that he once wrote an award-winning book, but that he "forgot to click 'Save' and lost the whole thing in a power outage." Considering he also started to tell us the secret to life but never finished his thought, we're inclined to believe him. In fact, we strongly suspect that award-winning book contained the secret to life. We're just not sure whether he "forgot" to click "Save" or he just realized that knowledge unleashed on the world would be too powerful. Whatever the case, we're just grateful our behind-the-scenes master works with us!