Three Ways to Keep You and Your Business Organized When You Work from Home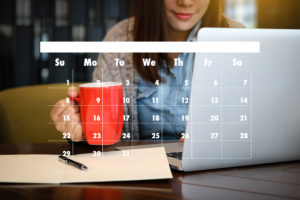 By: Rheanna Bernard
Trying to keep yourself organized, especially when you work from home, can be tricky. Distractions come easier with family, kids, or just the house in general being right there. It's easy to say, "Oh hey, let me just do this cleaning," or, "Maybe I'll just take a second to organize this." On top of distractions, you have the organization factor that is a little different when you operate your business outside of the traditional workspace. Working from home can give you so much freedom, but sometimes you have to work a little harder. Here are three ways you can look at to keep yourself organized and less stressed.
Use a scheduling system.
Finding ways simply your life can help keep you organized. Using a scheduling system like Buffer or Hootsuite to schedule out social media posts can allow you to plan out a week or two ahead, saving you time in the long run. Buffer and Hootsuite both offer free options so that you can test out which set up works best for you. Both enable you to post to Twitter, Instagram, LinkedIn, and Facebook all in one place. Setting aside a specific day of your month for scheduling can free up your other days to focus on interacting with your followers without worrying about what you're going to post that day.