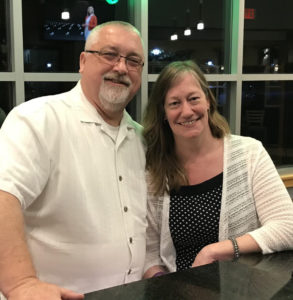 We are extremely excited to introduce you to our "oldest" Powerhouse freelancer, Jennifer McKee. It wouldn't be too much of an exaggeration to say we've been waiting ALL YEAR for this feature! Jen has been with Powerhouse for over six years and is still our number one fan, as well as one of our indispensable, go-to talents. She works as one of our quality assurance geniuses, but she has been known to take on the occasional writing assignment if we beg enough. Jen ensures that the products we turn out are error free and fantastic. Currently, you'll see her hand in products for clients such as Nomadés and Cape Henry Associates, but given how long she's been with us, her invisible touch is almost everywhere.
Jen has two favorite things about Powerhouse. Well, we limited her to two or, given her status as a super fan, we'd be here all day. She loves the flexibility that comes with our virtual workplace, but she truly loves "how encouraging, supportive, and just KIND the team is to one another." We couldn't agree more. It's a work environment that founder Jessica Bertsch has purposefully fostered since day one—and Jen should know because she's been here nearly as long. These are also traits Jen's taken to heart as she is almost always one of the first to offer an encouraging word or congratulations.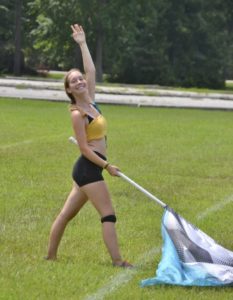 Jen describes herself as "a hot mess," to borrow a phrase from our founder. A typical day finds her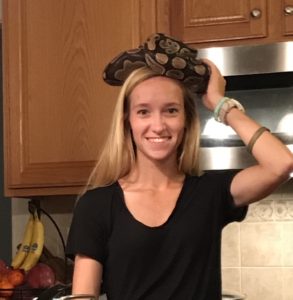 juggling her life, working at figuring herself out, and just trying to be happy. It's a quest she's aided in by her husband of seven years, Alan (a sixth-grade science teacher which, we think, automatically makes him a hero), and her daughters, Alex and Maya. Alex is 21 and has just started veterinary technology school while she works full time at a veterinary hospital. Maya, almost 18, is in her senior year of high school and a proud fourth-year color guard member of the Hickory Marching Hawks. Jen isn't a proud band mom or anything (wink). Her domestic bliss is rounded out by her 3-year-old pit bull, 8-year-old boxer, and her 18-year-old, 4-and-a-half-foot long ball python. Hey, we all have different ideas of what makes a good pet, but we think she might win the most cool pet owner points in our "office"!
When asked about her hobbies and interests, Jen said she enjoys kickboxing, hanging with friends, and SLEEPING. We can get behind those, too! She loves to travel, though she doesn't think she does enough of it. She also doesn't think she relaxes enough, which we're willing to bet is a failing a lot of us have.
Because we're entering that time of year when we all start to look toward next year, we asked Jen a little bit about what planning looks like in her life. Once she stopped laughing at the very idea of planning, she told us that the best planning advice she can give is this: Plan to have things interrupt your plans. She's an olympic-level list maker, but life always seems to get in the way. She's spent a lifetime learning not to be flummoxed by the hiccups that come, but to be flexible and that while the best-laid plans may not go to plan, a general outline is helpful.
We're pretty sure her ability to change as needed is part of what has made her so successful at Powerhouse. We know she has faith that Powerhouse will only continue to grow and blow clients away with our quality products. We're just relieved that as far as she's concerned she'll be a member of the team for as long as Jess will have her. Which means we'll see you again in about 20 years when we're celebrating her quarter-century here!
As always, we asked Jen for some fun, little-known facts about herself. She offered three, though she said none were very exciting. The first is that she has been enamored with military jets since she was 12 years old and her Air Force dad took her to her first air show. She actually loves jet noise! The second is that one summer during college she waited on Stephen King. The third is that, having grown up on Cape Cod and coastal Maine, she can get every bit of meat out of a lobster even though she won't eat any of it (she's NOT a seafood lover).
Well, Jen might not find herself overly exciting, but we're excited to have her talented self as part of the Powerhouse family. Here's to six-plus years together and many more to come!