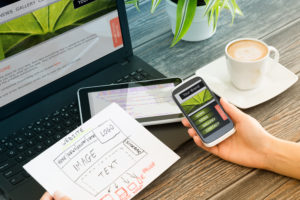 We've talked about branding content and building websites in the past. And ideally, you've been rocking a great, user-friendly, aesthetically pleasing business website this past year. But a website is not (or should not be) a static thing. It should be responsive to your business climate and users—both your present customers and your prospective customers. That means your website can't be a one-and-done situation. It requires regular review and maintenance to keep your business fresh and relevant. So, let's get to spring-cleaning your website, shall we?
Take care of the logistics of having/running your website. Is your domain name due for renewal? If so, take care of that now. If not, make sure to note on your calendar when that next needs to be addressed. How about your hosting plan? Is it meeting your needs given your website traffic?
Have you looked at your website traffic recently? Review your analytics. Where on your website are people most actively engaging? Where do they not tend to visit/click? Let this information guide your strategy for content for this calendar year. Ruthlessly edit your content. If it performs, wonderful—figure out what made it a successful piece of content and do more of that. If not? Find a way to repurpose it or kindly bid it adieu. Schedule regular analytics checks and adapt your strategy accordingly.
Review your products and services. Are you still doing what you say you do? Perhaps you've previously promoted an offering that hasn't taken off. Or you've expanded your available services. Make sure that any listing of products and/or services reflects what's currently available and that the pricing is current. If you've already got plans in the works to change your pricing in the near future, consider doing it now, while you're "cleaning" your site, rather than later.
Timing is everything. You don't want your content to appear out-of-date. Know what's not "news"? Old stuff. That means your most recent content shouldn't be over a year old. That the copyright date on the bottom of your page should now read 2019. That any metrics you may boast of, like units sold or clients served or locations you've expanded to, should show any growth you've experienced.
Keeping everything current also means that any bios or references to staff and their positions are up-to-date. That any changes of physical address or email are reflected in your contact information. That any policy changes, like those joyful legal disclaimers, reflect the most current (and compliant with any changes in regulations) language.
Prioritize function over form. Test the functionality of your website. Do the links all work? (This is particularly important if you share external resources and/or information, as another company's website changes can make once good links bad.) Anything you would ask a customer to do on your website—sign up for your email list, complete a survey, reach you through a "contact us" button, leave a comment, make a payment—make sure you can perform that desired action. Your goal is for your end user to have an easy and enjoyable experience interacting with your site, so make sure nothing interferes with that aim.
But aesthetics DO matter. Listen to your fifth grade English teacher: Spelling (and grammar) count. Don't diminish your impact as a subject matter expert in your field over typos or misspelled words. If you tend to have a blind eye to necessary corrections (which is very common when we're reviewing language we've created and used for some time), then ask someone else to look at it with a fresh set of eyes.
Check too for consistency of branding and messaging. If you've changed your logo or tagline or marketing materials, make sure that those changes are made to your website as well. Ideally, you should see continuity between your website, marketing materials, business cards, invoices, social media sites, anywhere that your brand has a presence. That consistency should apply to any visual elements, images, and your company's voice.
Your website should reflect the latest and greatest version of your business. It is your baby out in the world. Take the time to tend to it properly, with a good spring-cleaning and regular checkups, and it can be a tool that will help your baby grow.