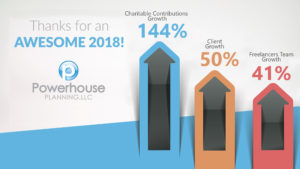 There's really no other way to describe it. Our clients and team members made 2018 a celebration here at Powerhouse Planning. 2018 saw us enjoying our sixth year providing an assortment of services to a wide range of clients, while employing a virtual team that now represents all five military branches, the best talent (regardless of military affiliation), and eleven states (if you think your office conferences are hard to coordinate, try ours!). Despite a fabulous first five years, in 2018 Powerhouse grew our client portfolio by 50% and our team by 41%. In addition, our most impressive statistic is also one near and dear to our president and founder, Jessica Bertsch's, heart: Our charitable contributions grew a whopping 144%! So join the party as we honor the ways in which 2018 marks our most "accomplished" year to date.
Our clients are incredibly important and impressive. We strive to provide the best, most innovative products, and word is spreading that Powerhouse is the place to go for high-quality, on-time delivery. In 2018, we established partnerships with Jacey Eckhart, Coastal Addiction, MILLIE, and Operation: Job Ready Veterans, just to name a few. From serving nonprofits to government contractors, we provide wide-ranging services that assist our diverse clients in creating the best possible solutions for their clients. In addition, we are proud that longtime client Cape Henry Associates renewed their contract with us for a record fifth year.
Ever heard the phrase, "There is no 'I' in team"? Well, at Powerhouse we're proud to say that we place a high premium on collaboration and teamwork—it's all about working together to create our POWERful team solutions. But we do believe there is an "I" in our team: Our team is INCREDIBLE. All of our team members are truly spectacular at what they do. Our president has a talent for discovering someone's "career gifts," and it shows in the team she's assembled. Last year we added some dazzling talents to our team such as Meghan Traynor, Julia Clark,  and Ariana Detrez.
Powerhouse has been honored to work with some of the best talents in the nation. In a virtual workplace, it can be difficult to create a true sense of community, but Powerhouse has succeeded. While a lot of us here are relatively new (two years or less with the company), there are some who, even in the short six years Powerhouse has been around, have already achieved "legendary status." Legends like Jennifer McKee, Technical Writer and Quality Assurance Specialist, who is our most senior team member. Jennifer has been with Powerhouse for five years, and her fingerprints are all over the successful projects we turn out. Another example of our spectacular workforce is Bianca Strzalkowski, our e-Newsletter Coordinator. All those newsletters you've received and looked at over the last three years are her babies. She makes us look and sound good year-round. From our amazing long-term IT guy to our lineup of graphic designers, technical writers, marketing gurus, and more, Powerhouse employs the best while providing a work/life balance that is second to none. No wonder our team members tend to stick around while continually submitting outstanding work.
From its inception, Powerhouse has been committed to giving back 10% of its monthly profits. In the beginning, that commitment meant sponsoring a child in Africa through World Vision, a sponsorship that still continues today. As Powerhouse grew, so did our charitable offerings. In early 2018, Powerhouse provided funds for a woman to travel to Haiti for humanitarian reasons. Powerhouse's founder wanted a way to get the team involved in our "Share the Goodness" movement, and in November and December she challenged Powerhouse team members to nominate organizations in our hometowns to receive some of the goodness that comes our way. Our commitment to give back to our communities saw contributions going to the Scentsy Buddy Drive at Florida Hospital for Children; Space Coast Basket Brigade; Jesse Beckius/Casey Owens Veterans Resource Center; Alzheimer's Association; Foodbank of Hampton Roads; North Carolina Center for Economic Empowerment and Development (CEED); Onslow Women's Shelter; Fort Gordon Christmas House; St. Anne's Child Care Center; and Rockledge Professional Firefighters Charitable Foundation. If you asked her, we're pretty sure Jessica would say that besides the professional success Powerhouse has seen, the ability to give back and "Share the Goodness" is one of her favorite things about starting this company.
So, as we begin to tackle 2019, we thank you for everything. 2018 was a fantastic year, full of growth and exciting new partnerships. Be sure to check out our services. And keep checking back—we're adding new goodness all the time as we strive to be the one-stop shop for all of your planning and marketing needs. Don't see what you need? Contact us and we'll see what we can do. Our goal is to make 2019 even more remarkable. Let's make a date to meet next year to celebrate again—same time, same place. Deal?